OLO is an extremely simple game. Though can be played alone, it is more enjoyable if played by two persons (on the same handset). The main game is played with the help of circles which has to be flicked into the area of opposite player. The coloured circles are called OLO, and the game continues till players run out of their coloured circles. The player who has got more circles in the other half which belongs to the opponent becomes the winner.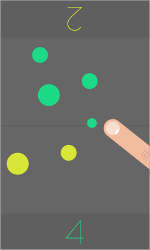 The problem with such games is that the game is too much simple; the description is more complicated than the game itself. It is difficult to find two player games on Android and OLO is as challenging as it gets, especially when users are pitted against good players. Since the interface is so simple, the game has the danger to get boring for the players after some time.
The game becomes even more challenging when the playing area becomes too crowded with OLOs. There are two coloured lines on two sides of the playing area, and the players try to get their OLO on that line. Otherwise, even if the ball goes into the other half, the players' goal is accomplished. The OLOs come in different sizes, and the larger ones are more powerful. The game has the potential of becoming very popular among the children.
The game is available on Android for free, you can download the game from this link.