Pros
Battery Life
Sound quality and transmission range
Build quality
Cons
Looks
Starting with a brief history, Truebluevoice is a subsidiary of Vox Spectrum, which was established to serve countries like India and Sri Lanka. Well it started off as the authorised distributor for the brand Plantronics and later they have launched a couple of products under their own brand name.
The name does sound impressive for a Bluetooth accessory brand and considering the years of expertise these guys have invested in serving Plantronics, the expectations automatically become higher and are rightfully met also by the TBV-d5 Bluetooth transmitter.
The device's looks and feels solid, something which is built to last longer. But overall the d5 is sleek, lightweight and a stronger device.
For wireless connectivity the D5 uses Bluetooth 2.1 with A2DP (Advanced 2 way data port) which is basically used to transmit stereo voice over Bluetooth.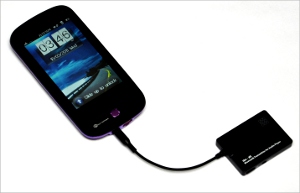 To test the effectiveness and the efficiency we tried it with a stereo Bluetooth headset and as expected it played flawlessly from a distance of five meters with no source of interference. It performed well too when tested from a distance of five meters with a wall in between.
The company has claimed its effectiveness over an area of 10 meters and it did exceptionally well within that range, but things get jittery if a wall comes in between.
In a sentence, the D5 provides good connectivity and does the transmission job really well. The battery life is one commendable thing. Even with just 14 grams of weight, this device manages to go on for four to five days of normal usage.
To sum it all up, the TBV-D5 is an impressive Bluetooth transmitter. It has got ample range, great battery life, sturdy built quality and is shielded from mobile radiation as well.
So for a price of Rs 1,399 this device might sound like marginally overpriced but for the features and the performance people would easily settle for this. It makes a great buy for people who want to transmit audio to their stereo Bluetooth headset or speakers from MP3 players, TV, Radio or basically anything that has a 3.5 mm audio jack.