There is no dearth of SIM calling tablets under Rs 20,000 but quality is definitely an issue. Asus Fonepad, which was launched only in April this year, raised a lot of hope among people.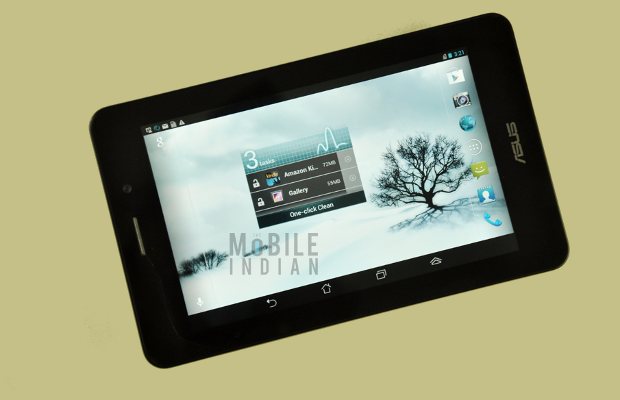 We had already compared it with the Samsung Galaxy Tab 2 P3100, which too is a SIM calling tablet (to read our comparison, click here here. The phone had impressed us during our first interaction with the tablet (read the Asus Fonepad Hands On here.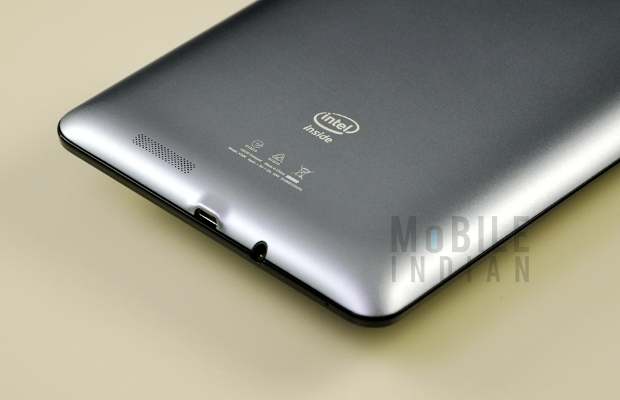 But the devil always lies in the detail, so we brought the Asus Fonepad for a thorough review and here is our take on the tablet, currently available in the market for around Rs 15,000.
Design
Asus Fonepad measures 196.4 x 120.1 x 10.4 mm (height, width, thickness) and weighs 340 grams. As figures indicate, the tablet is reasonably light and slim. It is actually made of four different parts – the display, a broad metallic thread that surrounds the display and bezel, an aluminum-finish back pane, and a removable portion of the back panel that houses a SIM and the micro SD card slots.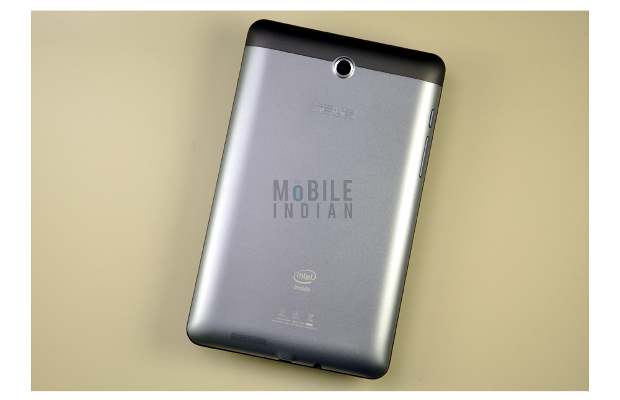 Construction wise, the Asus Fonepad is unique and looks good. The most noticeable part of the tablet is its back panel, which is made of two parts – almost 90 per cent of the back panel is non-removable while a small part (just above the camera) is removable and houses the micro SD and micro SIM card slots. While the removable portion is in black, the rest of the back panel is painted an aluminum colour that gives it a unique look. However, I did not like its metallic back panel, even though it is a lot stronger than normal plastic panels. It is quite slippery. However, one of its pluses is that it gives some sort of protection to the sensitive software of the tablet and looks good.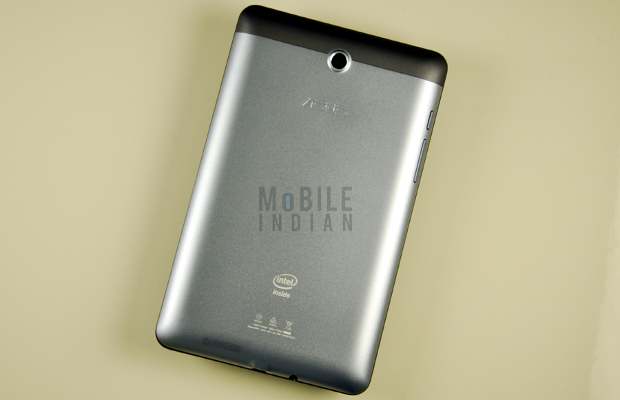 The display and bezel around are fully covered by glass but attract a lot of dust and fingerprints. Considering the slippery nature of the back panel, one has to take utmost care while handling the tablet. The display is prone to scratch and damages also, as is the case with most other tablets.
All in all, though the design of the tablet is good I would have liked a rubberised back panel for some grip.
Display
The Asus Fonepad comes with an IPS LCD touchscreen with 800 x 1280 pixel resolution, which translates to 216 ppi pixel density. It has a 10 fingers touch input mechanism. The brightness level is also very good in the Fonepad; thus indoors you can easily use the tablet even at minimum brightness.
Despite the average pixel density, it is a pleasure to watch pictures and videos on this device. We never had any touch related issues either. The display is slightly reflective but it isn't very acute.
User interface
The Asus Fonepad has only power and volume controllers; there are no physical buttons on its body, which is a norm in tablets. However, it has four on-screen buttons – return, home, recent apps, and one for floating apps or widgets. So apart from keeping app/widget shortcuts on the home screen itself, you can access some widgets/apps quickly using the floating widget; thus you need not go to the app home always to open your favourite app.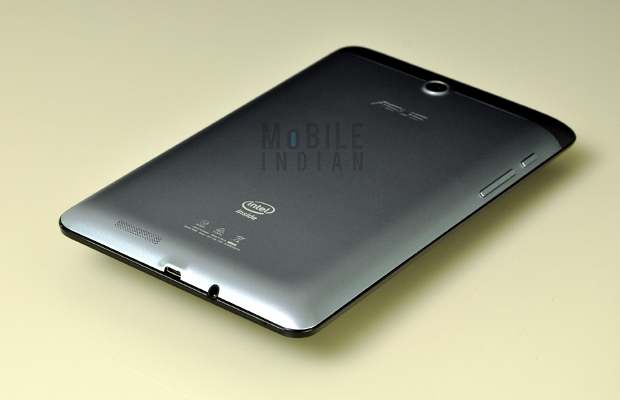 Asus has used a customized interface in the Fonepad, which is not clumsy. Unlike the usual Android notification bar, here there are several shortcuts. First, there are shortcuts for a WiFi controller, Audio Wizard and Settings. The second row of the notification panel houses shortcuts for WiFi, mobile data, smart battery saver, instant dictionary, WiFi hotspot, Bluetooth, GPS, sound and auto rotate.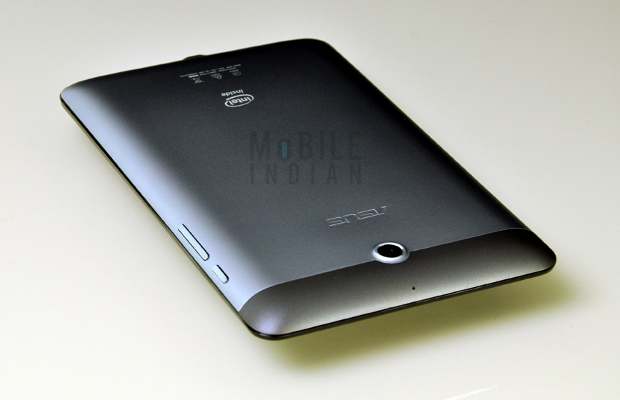 Under that there is a brightness controller, below which you can see notifications. Other the notification bar there are not many customizations; it works like any normal Android device, which is a good thing since you won't have a hard time operating this device.
OS, processor and operation
Asus Fonepad comes with an Intel Atom Z2420 single core processor with clockspeed of 1.2 GHz and Intel's hyper threading technology. It is supported by 1 GB RAM and a PowerVR SGX 540 graphics processing unit. It has Android 4.1.2 operating system.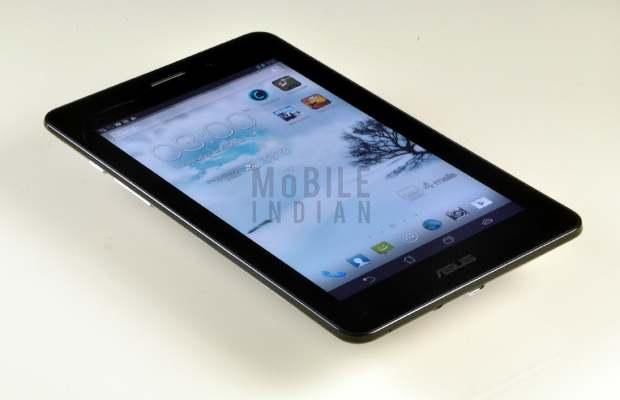 Though it rates quite low on the Antutu Benchmark (8993), the tablet performed well during our review. A pertinent question thus arises: is it better than low cost tablets with MediaTek quad core processors? The answer is no. No doubt, the Asus Fonepad managed to run many heavy games like Real Racing 3, Dead Trigger, and Blood and Glory, but it is slightly slow in opening such games. Having said that we must also emphasize here that its graphics is way better than we have seen in low cost quad core tablets.
Storage
In India, Asus is offering the 8 GB model in which around 5 GB is available for users to store their content. There is thankfully a 32 GB micro SD card slot. Asus is also offering 5 GB lifetime Asus cloud storage.
Battery
This is yet another highlight of the Asus Fonepad. It comes with a good 4270 Li-Ion battery that according to Asus provides nine hours of usage time, 751 hours of 3G standby and 32.5 hours of 3G talktime.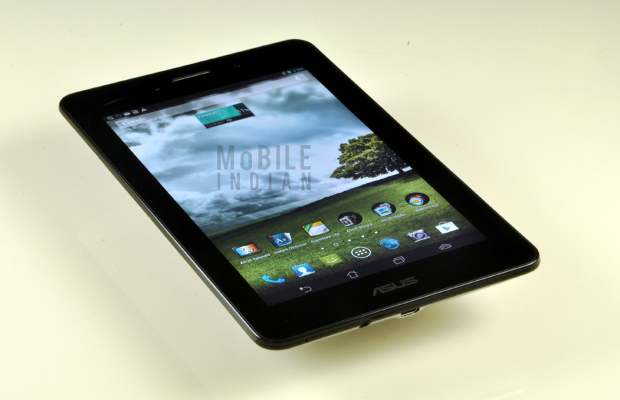 As per our review, the tablet gives around five hours of video playback with maximum brightness. As far as gaming is concerned, it gave around five hours of battery backup during which we kept the brightness at the highest level while volume was almost zero.
Camera
The Asus Fonepad comes with a 3.15 megapixel rear camera and a 1.2 megapixel front camera. The rear camera is an autofocus unit and can record 720p high definition videos. None of its competitors – Samsung Galaxy Tab 2, Nexus 7, iBall Slid 3G-7370, or the Huawei MediaPad 7 Lite – had a better combination than this.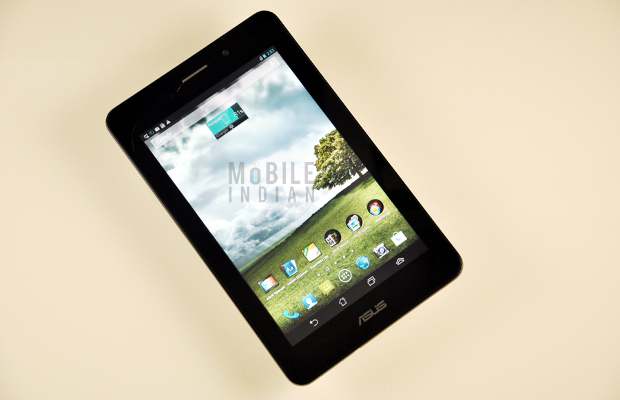 The rear camera is able to deliver better results than most of its competitors while the front camera is very good for video chatting.
Connectivity
Asus Fonepad comes with a micro SIM slot, which can be used for both calling as well as to access 3G internet. Besides, it has WiFi with a hotspot. It also has Bluetooth 3.0, micro USB 2.0 and GPS.
Conclusion
The Asus Fonepad at around Rs 15,000 comes as a really good choice. Unlike other devices it has an Intel processor. Though just a single core processor, it offers very fluid performance thanks to its Hyper Threading technology. We would recommend this product over its rivals for its good battery back up, connectivity options and great display.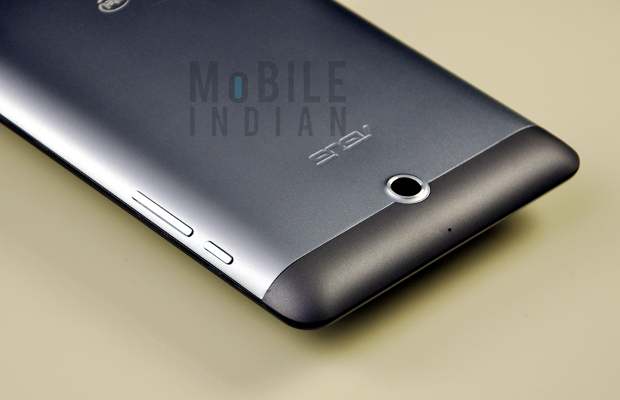 It has also a very good user interface. If you are a big gaming enthusiast, then you may not like its overall output. Also, it is a bit slippery in the hands. But the most important point that works in Asus's favour is that none of its competitors (7 inch tablets in the price range of Rs 15,000) offer better features than this.