Pops is an Android App which makes the usual notifications for mails and SMSes look more attractive. Most users have their notifications rather dull, in the form of an envelope icon, or a speech bubble for SMSes, if they have done nothing to improve it. The same notifications look much better and colourful with the help of this Android app (Pops).
The interface of Pops app is very smooth and responsive. To use the app, users just have to open it, choose their animation, configure settings and the notification come just the way they want it.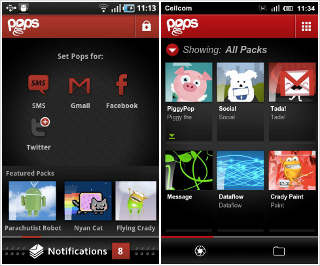 Users have the option to choose their own animations or videos for download. Currently there are only 31 animations available.
Users also have the ability to create their own notifications. They just have to create a new video with the camera of their phone, or even choose a video from their own files, and they can easily make it their new notification theme.
There is a pending notification panel also which users can use to access earlier alerts which they have missed due to some reason. The app works especially well when the screen is inactive. Once the users want their notifications to be discreet again, they can easily disable these Pops notifications.
The Android Pops app is a joy to use and very much fun. Users can easily put their phone on silent when in a meeting or while in a theatre, and they can still be confident their will receive all their messages without fail.
Currently only notifications for Gmail, SMS, Facebook and Twitter are allowed and users would definitely want more services to be added to it.