With the rise of smartphones and camera based mobile phones, photography has taken a new direction all together. Today mobile phones have replaced cameras and even the digital cameras to a great extent as far as armature photography is concerned.
With mobile phone photography gaining popularity with each passing day, many developers are developing applications that can give users professional like controls over the photographs they click.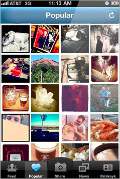 Instagram is one such application that allows users to do one touch improvements in the photographs and share them easily on various social networking and photo sharing websites as well.
With Instagram, all you need to do is click or select a picture and Instagram has a set of filters that a user can choose from and apply to get the desired effect. Users can also choose to tweak the depth of view or angle of view of the image.
Upon completion, users can simply add those photographs to their feed or can also share it amongst other friends through numerous social networking websites like Facebook and twitter. Instagram has also tweaked the interface of the application and the feed so as to allow users to easily manage and tweak the photographs and simultaneously allowing other users to see them in a grid form view.
The application is available for download free of cost for all iOS devices running iOS version 3.1.2 and above. Interested users can download this application directly from the iTunes store or can also follow this link to download the app.