Lava, an Indian handset manufacturer, has a strong line up of mobile phones under Rs 10,000. Like Micromax's Canvas, Lava came into prominence with its Iris series of handsets. Here is one handset of the series, called Lava Iris 455. We had in the past reviewed the Lava Iris 501 too and were quite impressed with its quality and performance. So let's look at the performance of the new Lava Iris 455, which has an MRP of Rs 8,699 but is available in the market for less than Rs 8,000.
Build and design
The Lava Iris 455 has a pretty good design for a handset below Rs 10,000. Of course, its back panel is made of plastic but has a metallic look, which is shiny but not slippery. A metal strip surrounds the phone and divides the back panel from the front panel. Unlike many handsets, where the keys are made of plastic and hence are prone to damage, the volume rocker and the power button- the only two hardware keys in the phone – are a part of the metal strip itself.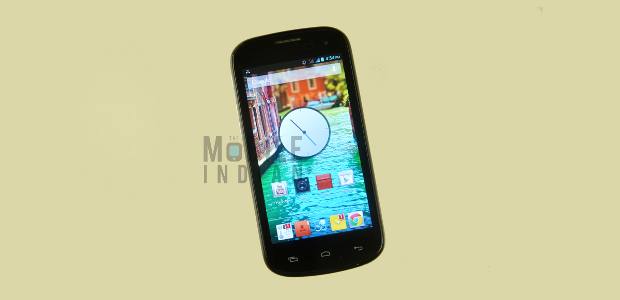 The rear panel houses the camera lens and flash light. Even the 3.5 mm jack and the micro USB port are on the back panel but just on the top most part. The Lava Iris 455 is quite a thin phone too, measuring just 9.92 mm. It also weighs just 120 grams. Overall, the phone feels good in the hand and is quite decent to look at. The phone also comes bundled with a spare back panel.
Display
The Lava Iris 455 comes with a 4.5 inch screen. Thankfully, the phone has a decent qHD (540 x 960 pixel) resolution, which translates to 244 ppi pixel density-quite good for a handset priced below Rs 8,000.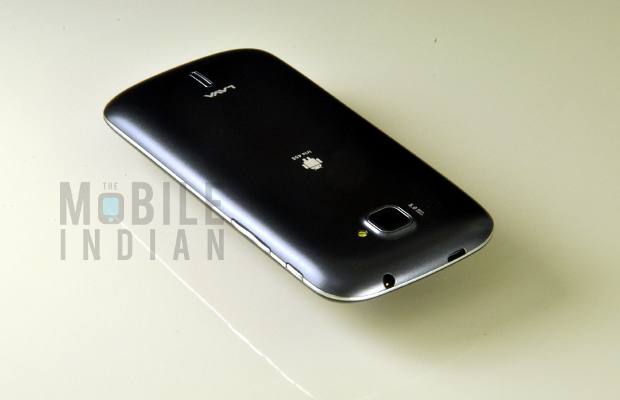 The display is not very bright though; even indoors you have to keep the display at maximum brightness to see things properly, which explains the state of affairs when you operate it outdoors. The display, though, is quite responsive to touch and produces good colour output.
OS and user interface
Lava Iris 455 comes with Android 4.1 Jelly Bean operating system, which is considered much faster than the older ICS operating system. Also, currently a handful of devices under Rs 10,000 have the latest Android operating system, so hats off to Lava. Lava has kept the stock Android user interface in the Iris 455.
Processor and performance
Lava Iris 455 comes with a 1 GHz dual core processor with Cortex A9 chipset. The phone has a Power VR SGX531 graphics processing unit. There is 512 MB RAM, which is becoming synonymous with smartphones priced less than Rs 10,000, so no complaints in this regard. Overall, the combination provides decent performance.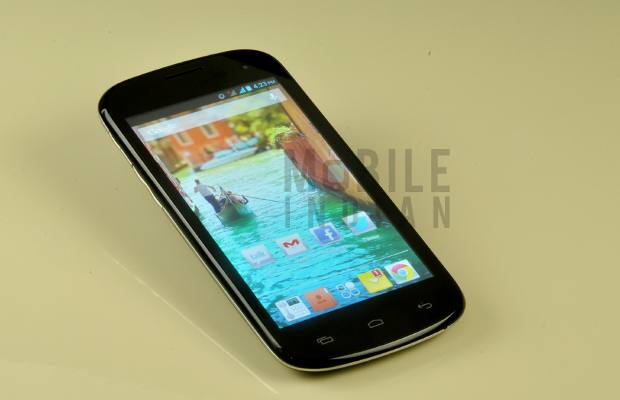 It managed to run good games like Temple Run Oz without any problem. Sometimes it showed some lag, though, so you have to be very careful and must use a task manager to clean its memory from time to time.
Battery
There is a 1500 mAh battery in the Lava Iris 455, which claims to provide 8 and 6 hours of talktime on 2G and 3G networks, respectively, which is not at all encouraging as most people look for at least around 10 hours of backup on 2G networks. The result is that the phone has to be charged twice within 24 hours even if you are using it frugally.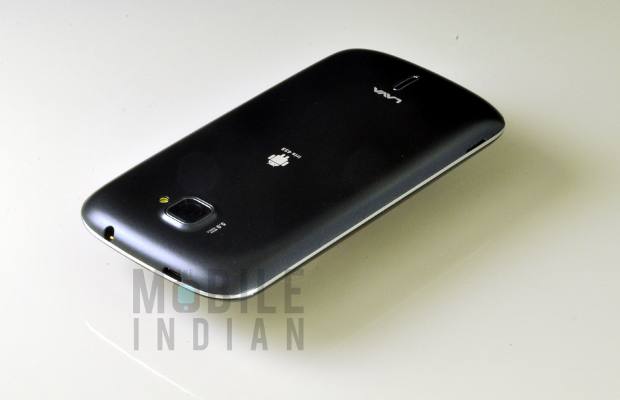 For instance, if you play a normal game also, it will consume around 10 per cent charge within 10 minutes (we kept the brightness at maximum but WiFi and Bluetooth were off). And if you are using the internet a lot, you should keep the charger handy always.
Camera
The Lava Iris 455 comes with a 5 megapixel rear camera and a 0.3 megapixel front camera. There is an LED flash alongside its rear panel for illumination in low light conditions. Auto Focus, Zoom, Face Detection and Panorama Shot features are there too.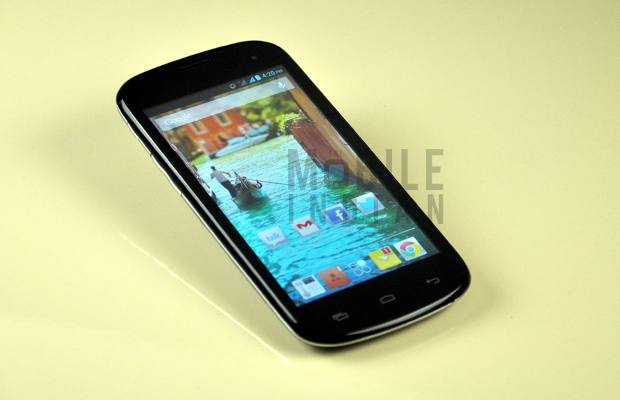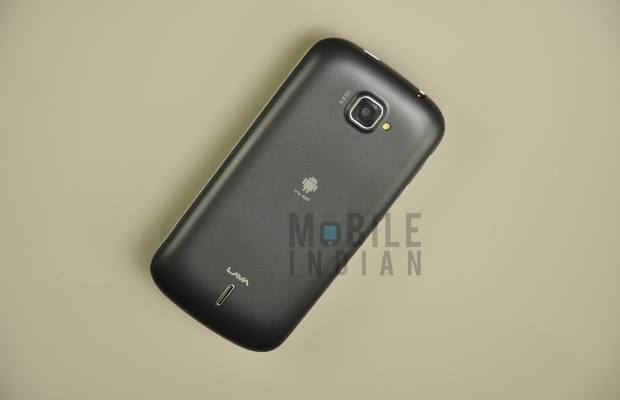 As expected, the camera is fine but nothing much to boast about. However, the auto focus ability of Lava Iris's rear camera is appreciable, but the stills clicked seem pixelated. Overall, though, it is not as bad as many of its competitors.
Storage
Iris 455 has around 2 GB of internal memory while there is a micro SD card slot which you can use to expand its memory by up to 32 GB. Most of its competitors also come with the same amount of memory, so no complaints in this regard.
Connectivity
Lava Iris 455 is a dual SIM phone; while one of its SIMs is meant to work on 2G network, the other can be used for 3G data connectivity. Besides, it has WiFi, Bluetooth, GPS and a micro USB port too.
Entertainment
Lava Iris 455 is, however, a good entertainment device. First of all, the supplied headsets are of good quality with good bass output. Moreover, as I said earlier it has a 4.5 inch display with qHD resolution, which makes it a good device to watch movies on.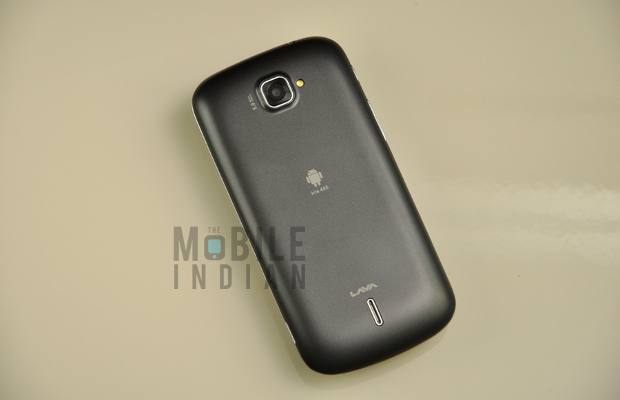 The handset has decent gaming ability. FM reception ability is also appreciable.
Conclusion
The Lava Iris 455 has neither uniqueness nor any major disadvantage, other than its poor battery life. It has a decent display as well as body. Its performance is appreciable too. Its camera quality is just average but that is endemic to most of its peers. Currently it is available for less than Rs 8,000, for which the Lava Iris 455 can be said to be a good buy.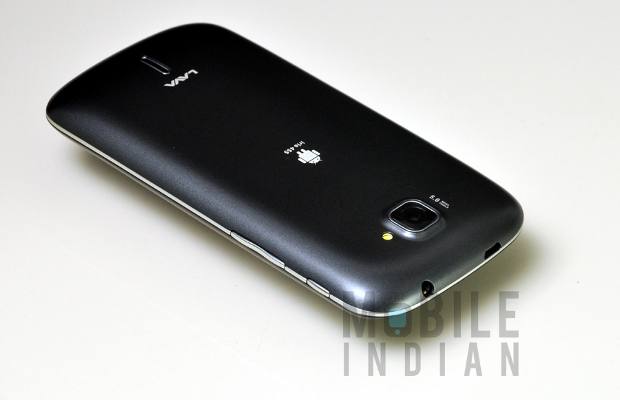 But it has some noted adversaries too that include the Karbonn Smart A12, Huawei Ascend Y300, LG Optimus L3 II and the Spice Stellar Nhance Mi-435.