If a recent leak from China's industry insider is to be believed, then Xiaomi and Qualcomm are currently working on optimizing the Snapdragon 845 for the upcoming Xiaomi Mi 7 smartphone. The report of GizmoChina is based on the information that has been leaked on China's microblogging website, Weibo.
The report further says that Xiaomi is expected to begin the testing of Mi 7 in November this year and the final testing of Mi 7 could happen in February next year and soon after that the phone should be ready for shipping. As per the report, the Mi 7 is likely to feature a large-sized OLED screen with 18:9 aspect ratio manufactured by Samsung and the smartphone won't feature an in-display fingerprint scanner.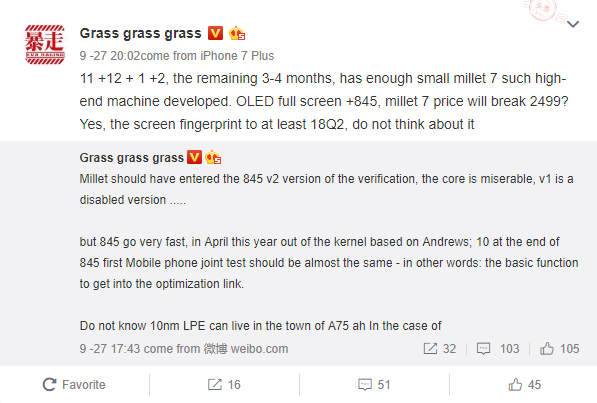 As per the rumours, the Snapdragon 845 SoC will be made using a 10nm Low Power Early (LPE) FinFET process. It is likely to include a combination of Cortex-A75 cores, Adreno 630 GPU, together with an X20 LTE modem which is capable of delivering download speed of up to 1.2 Gbps.
Xiaomi Mi 7 is likely to be supporting wireless charging as Xiaomi recently joined the Wireless Power Consortium (WPC) making it possible for the Mi 7 smartphone from the company to support Qi standard wireless charging. As per earlier reports, Xiaomi Mi 7 will be powered by Qualcomm Snapdragon 845 chipset and will be featuring 6-inch OLED display made by Samsung. The Mi 7 will be announced sometime in the first quarter of 2018. The Xiaomi Mi 5 and Mi 6 were launched in the month of April, but the Mi 7 might arrive between January and March 2018. Other high-end smartphones which are expected to announced during that period of time include the Samsung Galaxy S9 and LG G7.
The leaked specifications further reveal that Xiaomi Mi 7 will come in two variants – 6GB RAM and 8GB RAM. The device is said to boast dual rear camera setup just like Mi 6, and it will have the wide-angle lens and a telephoto lens. It will reportedly feature glass and ceramic body design. It will sport the full-screen display and is said to include the in-screen fingerprint sensor. As far as the pricing of the Mi 7 is concerned, it is expected to cost around 2,999 Yuan for the 6GB variant which is approximately Rs 29,369.
Note: The lead pic is of Xiaomi Mi 6.