Nvidia has unveiled world's fastest processor for mobile phones and tablets at the Consumer Electronics Show 2013, in Las Vegas, US. The new Tegra 4 system on chip comes with Cortex-A15 mobile processors with 72 graphics core.
Codenamed as Wayne after popular fictional character Bruce Wayne (Batman), the Tegra 4 also brings several improvements and features such as Always-on HDR Camera technology. Nvidia did not announce the availability of Tegra 4 based devices running Android or Windows operating system.
The new Nvidia Tegra 4 features four processing cores based on the ARM's latest Cortex-A15 processors. Besides, there is a battery saver core as well which is expected to bring better power management thus enhancing the battery life of devices.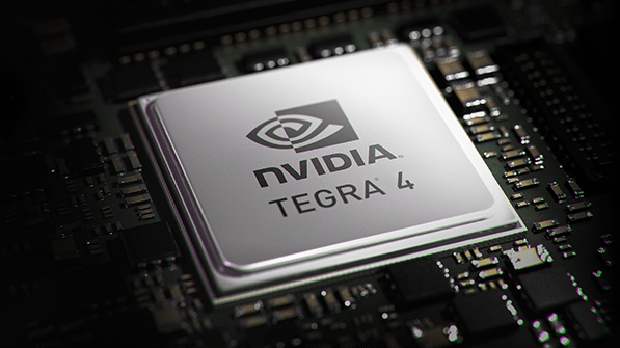 With that processing muscle, Nvidia has engineered to add 72 graphic cores to offer six times faster graphics than the Tegra 3 chip. This graphics muscle can be used to power the multimedia, graphics and also games with rich 3D graphics. These graphics core collectively manage to support 4k ultra-high-definition videos. A typical Tegra 4 chip based device is claimed to offer 14 hours of HD video playback.
Nvidia also introduces the Tegra 4 Computational Photography Architecture Engine to power and enhance the mobile imaging and also High Dynamic Range imaging. The Computational Photography Architecture Engine enables the Always-On HDR Camera with the live HDR preview, instant HDR images, HDR panorama, HDR flash, HDR burst mode and also HDR video. That hints are better camera features offering devices but we hope that HTC uses top quality optics and flash for those camera modules.
When it comes to power consumption, Nvidia claims that the Tegra 4 will consume 45 per cent less power compared to the Tegra 3. That has been achieved with the 28nm silicon fabrication technology used to manufacture the Tegra 4 chips.
Unlike the earlier rumors, Nvidia Tegra 4 does not integrate the Icera Modem to power the 4G Long Term Evolution on the chip itself. Instead, Nvidia touts that the Icera i500 will optionally offered and it is said to carry processor inside. Nvidia has revealed scarce details on the Icera modem.
The Tegra 4 SoC housed mobile phones and tablets are expected to be faster, deliver smoother user experience and run for longer than predecessor.
We expect to see the first Tegra 4 based mobiles and tablets by the mid of this year.