Nokia announced its flagship Windows Phone OS based phone, called the Lumia 800. Design wise it's a N9 clone but runs the Windows Phone operating system. The phone was code named Sea Ray but now it's part of a wider Lumia series of Phones.
The polycarbonate body of Lumia 800 has the subtle curves topped with a bright Amoled ClearBlack display with toughened glass similar to the Meego based Nokia N9.
There is no physical button, but the Back, Start and Search buttons on the front of the screen are set in the glass. The phone comes in three colours: black, cyan and magenta.
On the back, there's an eight-megapixel auto-focus camera with Carl Zeiss optics. The camera also shoots HD video at 30 frames per second.
Inside, there's a 1.4GHz processor and graphics co-processor, 16GB of internal user memory, with cloud computing integrated to offer 25GB of free SkyDrive storage for music and pictures.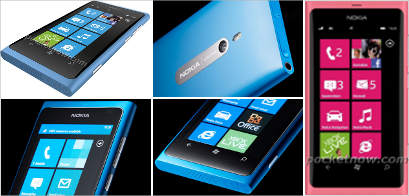 It is 3G enabled phone and has a talktime up to 13 hours, and standby time up to 335 hours. It measures 116.5 x 61.2 x 12.1mm and weighs 142g.
A Nokia enhancement, in this windows phone includes Nokia Drive, which offers free turn-by-turn navigation and a dedicated in-car interface. It also gets Nokia Music with new MixRadio service that will offer a free, global, mobile music-streaming service with hundreds of locally-relevant channels available.
Social networking has also been taken care of with every major network covered (Facebook Twitter and the likes), and social sharing or online storage can happen automatically or with two taps on the interface. And also offers integration through communications and contacts.
The Nokia Lumia 800 will be available from November in Europe at estimated retail price is €420 (Rs 33,140) before any local taxes or subsidies. India will get the phone before the end of the year.