Vodafone is all set to launch an Android phone under its own brand name. The phone, which is likely to be priced between Rs 6,000-7,000, will be based on Android 2.2 operating system with a 2.8 inch capacitive touchscreen display.
The phone is to be manufactured by Huawei and has been named as "Smart". It will have a 2 megapixel camera, 528 MHz ARM processor and an Adreno 200 Graphics Processing Unit (GPU).
The 3G enabled device will also have WiFi and Bluetooth for connectivity. Besides, it will come with 130 MB of internal storage that can be expanded to 32 GB through a micro SD card. It claims to offer talk time of up to 250 hours on 2G and 380 hours on a 3G network though its 1200 mAh battery.
In addition to numerous Android apps, the handset comes pre-loaded with Vodafone Music, Vodafone Find & Go, and a GPS navigator app. Colour options are limited to two – Black and White, and will come with some short of bundled offer, which is likely to be 1 GB free data for 6 months.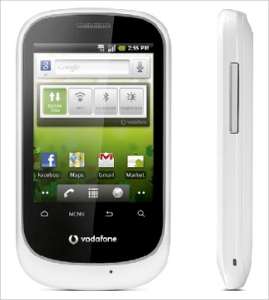 The telecom operator will also be launching an Android 2.1 Qwerty device &#151 Webbox. In June this year this device was launched in Haryana for a pilot project. The device offers Internet connection through its EDGE support (no 3G) and uses the television as its display.
It also gives access to Android apps which comes bundled within the device. You also have things like Contact, email access etc. It is one device that has the potential to be the first PC of the family, only trouble is that it works on slow 2G network.
It is priced at Rs 5,799 with bundled 12 GB data usage for 12 months (2GB each month). However, Vodafone is offering this device for free under its 24-month bundled contract.
The Webbox is lightweight but portability is limited as it has to be connected through wire. A good thing is that it can be connected to all the TVs through now universal VGA connectors.