Vodafone has launched VF 247, a solar powered eco friendly handset. The device was launched on Tuesday at the Vodafone store in Fort, Mumbai.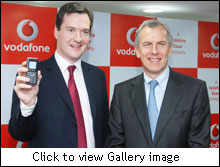 The VF 247 comes with an extended solar powered battery which charges by itself on exposure to ambient light.
The phone comes with Sun Boost, an inbuilt hardware and software that ensures that the phone charges in a room, as well as under normal daylight.
Marten Pieters, managing director and chief executive officer, Vodafone Essar, said in a press statement, "Vodafone's solar powered phone is launched for people residing in areas where electric supply is unstable, so that consumers can rely on solar charging to remain connected. This launch is likely to enable more people in rural India to go mobile and thus increase penetration from the current 20 per cent."
The company statement said that Vodafone has the second largest rural subscriber base in the country.
The VF 247 solar powered phone comes with essential mobile phone features such as FM radio, color screen and a powerful torch light, and will shortly be commercially available.