In an interesting development, three of China's biggest smartphones manufacturers – Vivo, Oppo and Xiaomi have entered a partnership. The three-way collaboration has resulted in the creation of a wireless file transfer feature which will work across smartphones from all three brands.
The new feature will work seamlessly with Vivo's FuntouchOS, ColorOS from Oppo and MIUI from Xiaomi, all of which are based on Android. The file transfer protocol will be enabled using Bluetooth which will pair any two devices from the brands. The protocol uses Bluetooth for less power consumption, faster pairing and better stability in-between devices.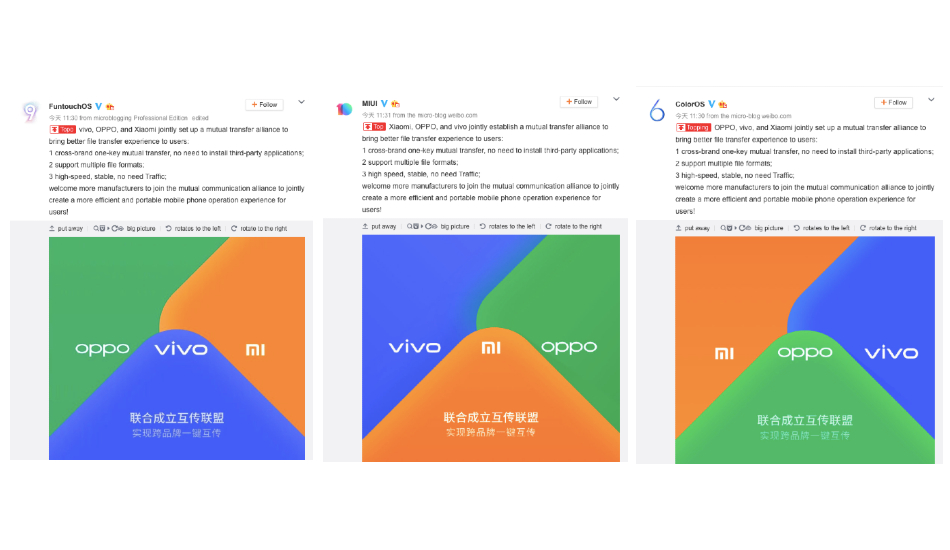 The companies have disclosed that users will be able to achieve data transfer speeds as high as 20MB/s, meaning the protocol could be based on WiFi sharing, similar to what Apple uses for its AirDrop file transfer. Vivo, Oppo and Xiaomi have revealed that a beta version of the file transfer service will roll out later this month.
While Xiaomi, Oppo and Vivo smartphones constitute around 50 percent of the market in India and China, a large number of users will benefit from the new file transfer feature. We might also see other Android OEMs joining the alliance so that an ecosystem can be built for all Android phones to share files and data seamlessly between each other like Apple devices are used to.
This isn't the first time a company has planned to make an AirDrop-like feature for Android. Back in 2011, Google added Android Beam to phones with NFC but it is about to be removed with Android Q. The Mountain View company currently offers Files by Google app for transferring files via Bluetooth and is planning to integrate it as an inbuilt feature on Android Q.
A public beta of the wireless file transfer protocol will be released by Oppo, Vivo and Xiaomi by the end of August.