Samsung has managed to close in on its Chinese competitor Xiaomi, which retains the top spot in the Indian smartphone market by the end of Q2 2019. While smartphone shipments in India grew by 3 percent annually to a total of 35.6 million units, there has been a significant change in smartphone market share that has happened during the course of a year.
According to the latest research from Strategy Analytics, Xiaomi shipped the most smartphones in India totalling around 10.2 million units up from 9.9 million smartphone units that it sold before the end of the second quarter of 2018. Xiaomi not only managed to top the shipment amount but also maintained its market share of 29 percent (28.7 percent to be precise) which is what it had at around the same time last year.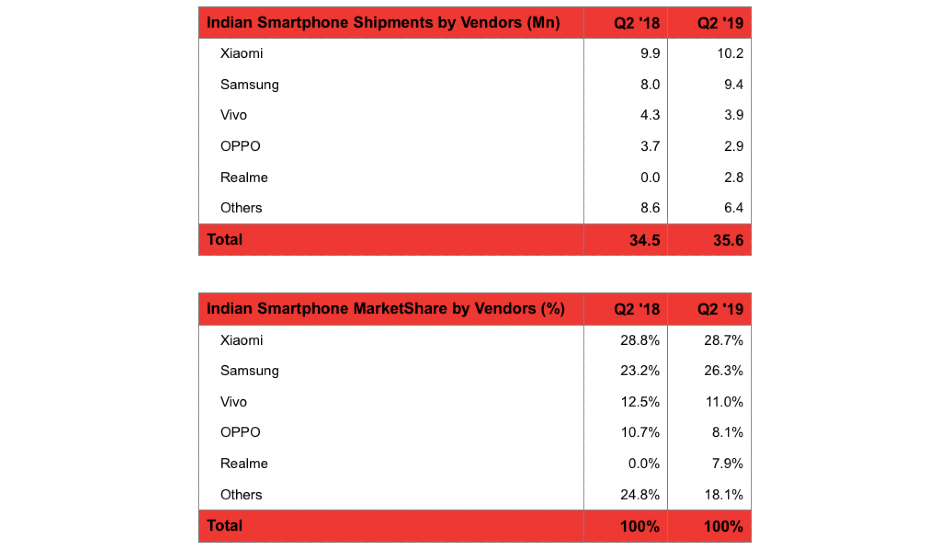 As for Samsung, the South Korean company has made a steady comeback to the smartphones game by coming second in smartphone shipments with a total of 9.4 million units sold up from last year's 8 million units. it's believed that Samsung managed to penetrate back into the Indian market by revamping its Galaxy A and Galaxy M series phones. The company is now only a small margin away from matching Xiaomi in the market share as it attains a share of 26.3 percent in Q2 2019, by gaining 3.1 percent of the market since Q2 2018.
Among other notable changes was the entry of Realme in the market, which has gained a market share of 7.9 percent by selling 2.8 million smartphone units since its establishment. Realme, which started as an Oppo subbrand and later shot away from its parent company is only 0.2 percent away front toppling Oppo which has managed to only get 8.1 percent of the Indian smartphone market.
Since Q2 2018, Oppo's business went down from 10.7 percent share as it only sold 2.9 million units, only 100,000 more units than its divorcee Realme. Oppo is believed to be facing competition from Asus, Samsung and Realme.
Vivo's fortunes also took damage but not in the same magnitude as that of Oppo's. The Chinese company sold over 3.9 million smartphones during the course of a year until Q2 2019 and commanded a 11 percent share in the Indian market. In contrast, Vivo had sold 4.3 million units and held a 12.5 percent share in Q2 2018.
Strategy Analytics Executive Director, Neil Mawston said that the growth in the Indian smartphone shipments in the last year "was driven by generous discount schemes promoted by online retailers such as Flipkart". He added saying "While Chinese vendors, like Realme, are surging, we note the pool of local Indian smartphone brands has been nearly wiped out and their collective marketshare today stands at less than 3 percent. Indian smartphone makers, such as Micromax and Lava, have completely failed to win in India and the outlook for them in 2020 is bleak".