The second session on '3G in Indian Telecom Industry: Content Services and Applications' at the 3G India 2009 conference was chaired by Sumnesh Joshi, BSNL and the panellists comprised Pami Vadher, head of consumer lab and user experience, Ericsson India; Wing Fei Chia, security response senior manager, F Secure; Manish Malik, product head, mobile internet and 3G services, Spice Digital; Srinivas Gopal, general manager, marketing, VAS, Idea Cellular; Rajeev Saraf, chief executive officer, Lepton Software; and Mandeep Singh, chief executive officer, Livevana.
Vadher started on a positive note by sharing a survey done by Ericsson which shows that half of the urban active VAS users in India are aware of 3G and what it can do. However, 97 per cent of 3G handset owners are not aware that their handsets are 3G-enabled.
Elaborating on the services that would work on 3G, Vadher talked about music, live TV, games and video telephony. She added that customers in tier one and two cities actually had more interest in video services than in metros.
Chia spoke about the threats to mobile phones from hacking and viruses and noted that mobile malware is still in its infancy stage, which will grow as more people migrate to the mobile internet.
Malik noted that besides the popular 3G services, corporate customers would be interested in business productivity tools such as HR and CRM, utility services and customer connectivity.
Gopal said, "The internet never really happened in India", and talked about how mobile internet will change things. Saraf and Singh talked about various location based services (LBS) and how 3G would make them popular.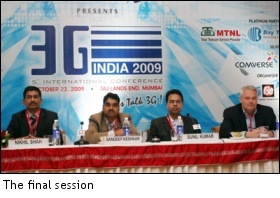 The final session was on 'Understanding the future 3G ecosystem and network operators and infrastructure providers perspective on it." It was chaired by Sandeep Keshkar, ITS, DGM (NSS), MTNL and the panellists were Nikhil Shah, head, strategic market development, wireless segment, Juniper Networks; Sunil Kumar, general manager, solutions and marketing, Alcatel-Lucent India; and Tim Wells, vice-president, global business development, Dielectric Corporation.
Shah said, "Very few operators are looking at backhaul as a serious problem." He talked about how 3G services such as those on iPhone stress the backend system. He pointed out to support 3G service, operators need to upgrade their infrastructure.
Kumar talked about the four strategies that may be adopted by 3G players for launch – brand leaders who use 3G as a marketing tool, operators who focus on multimedia content, operators who promote the use of mobile internet and no frills operators who take advantage of the economies in using 3G spectrum and offer cheaper voice services.