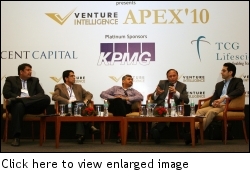 Merger and acquisition deals in the Indian telecom industry will see a sea change in this year, said panelists of a session on the telecom industry gathered at the Apex '10 private equity conference organised by Chennai-based Venture Intelligence, a research firm. The panel was chaired by Gautam Gandhi, head of new business development, India, Google.
"Currently the telecom industry has going through a tremendous growth phase – after achieving the 500 million subscriber mark, we are now looking at attaining 1 billion mark by 2013," said Umang Das, president, Quippo Telecom Infrastructure. He also discussed Quippo's model of cost optimisation. The company is an independent telecom tower provider having 30, 000 towers in its portfolio.
Telecom tower companies generally do not set up towers in less populated areas due to its huge investment cost. However, to achieve the billion figure the telecos will have to install more towers in less populated areas and highways. Das urged the telcos to adopt the shared network infrastructure platform in order to minimise the cost and get mutual benefits. "The operators should think of sharing towers instead of installing individual towers, this gives them the opportunity to reduce their costs," he said.
Interestingly, the tower business has been witnessing huge merger and acquisition activity since the past few years. Investors feel it is a profitable business in the long-term, considering its high need in the future. The biggest acquisition in the M&A space in the last one year took place in the last month when GTL Infrastructure acquired Aircel Cellular tower arm for Rs 8,400 crore.
Manik Arora, founder and managing director, IDG Ventures India, said that his firm is interested in investing mobile value added services – an area where he feels returns will be profitable. "We are interested to invest in ventures into video and data led applications. Gaming, which has again come back on the scene after a long time is also a key area of focus for us," Arora added.
Agreeing with Arora, Probir Roy, co-founder and executive director, Paymate said, "Value added services will drive new business models." On the operators perspective he felt that consolidation is round the corner for telcos.