UTV Bindass has launched a mobile application for its reality show – Superstud – School Of Flirt. This show, which recently concluded its first season with Ashmit Patel as the host, aims to decode the complex mind of a woman. Thus, the show has been designed to be the perfect visual handbook of how to or how not to "impress" a girl!
The mobile application called the 'Superstud Blackbook' is designed to act as a perfect wingman for the guys and help them get through the various stages of the 'Dating Process' by providing them with all the information required to walk into a girl's heart!
The app tells guys to plan the four important stages of impressing women which are divided as Ice breakers, Night out, Gear up, Chat Box.
Ice breakers: Don't know what to say? The app gives you the right thing to say for every occasion. Whether it's a pickup line, a compliment or even an excuse! The Superstud Blackbook will ensure you are never left dumb founded in front of your lady love
Night out: Want to plan an exciting night out but don't know the coolest places. This app helps you plan the perfect date depending on your city, locality and preference, all you need to do is specify your requirement and the Superstud Blackbook will throw up a list of suggestions to match
Gear up: Need some flowers/chocolates urgently to please your girl…but don't know where to buy them? The app gives you access to a complete list of utilities, so you never really land-up empty handed on your date.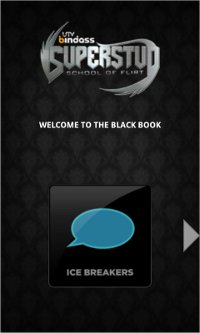 Chat box: Don't even have a date? Want to know where hot women frequent? Superstud Blackbook users will give you a list of cool hangouts frequented by gorgeous women, so you can meet them and put all the above features of the app to good use!
Commenting on the unique mobile app, Keith Alphonso, business head, UTV Bindass said, "More and more youth today consume content on their mobiles and we being a youth channel its imperative that we tap this preference. Youngsters like accessing information on their finger tips and the Superstud Blackbook app does just that, it gives them access to all the information that a guy would require anytime and anywhere to impress his woman."
The Superstud Blackbook app has been created by OML (Only Much Louder).
The application is available as a free download for all Android and iPhone devices. To download the app, search for UTV Bindass Superstud on your Android Market or your iPhone application store.
Android URL: https://market.android.com/details?id=com.foolsmart.superstud or bit.ly/ojOwYi