Nokia has announced a new competition for its new Lumia handsets. Under the new 'Spot the Lumia' contest, people can win a Nokia Lumia handset.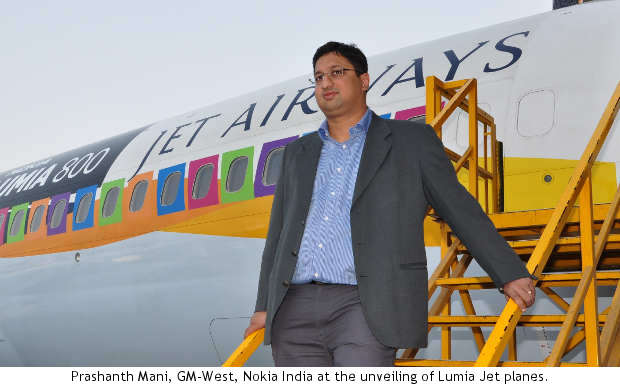 To participate, consumers will have to spot the Nokia Lumia — on the plane, or outdoor, at Nokia retail or even on TV — and upload the picture on www.facebook.com/nokiaindia. 50 consumers with the most innovative pictures will get to attend the amazing Sky Party on January 20 th on the Lumia branded Jet Airways aircraft.
The Lumia branded Jet Airways aircraft was unveiled by Nokia in Mumbai on Tuesday. Branded entirely in the new Lumia colours, the Jet Airways plane will sport the tile interface of the new Nokia smartphone on its windows, as well as inside the aircraft. The aircraft branding also features the names of Nokia employees responsible for this mammoth marketing initiative, acknowledging their contribution to the Nokia Lumia launch in India.
###PAGE###
The Sky Party will be a 2 hour extravaganza on board the Nokia Lumia Jet Airways flight with some amazing experiences for consumers. The aircraft will take off from Mumbai and will land back after the party.
Prashanth Mani, general manager, West, Nokia India, said, "The Nokia Lumia branded plane with Jet Airways will surely brighten the day of its passengers with its vivid colours and execution. This has created a new marketing and consumer engagement benchmark." He added, "We have created some amazing moments for our consumers since the launch of the Nokia Lumia range through the Lumia Taxi, flash mobs, flash cricket & luxury helicopter rides, and the Lumia aircraft will take the 'amazing quotient' of this campaign a little higher"
The Nokia Lumia Jet aircraft has already started its journey, as it flies across destinations in India between 1st January to 31st January.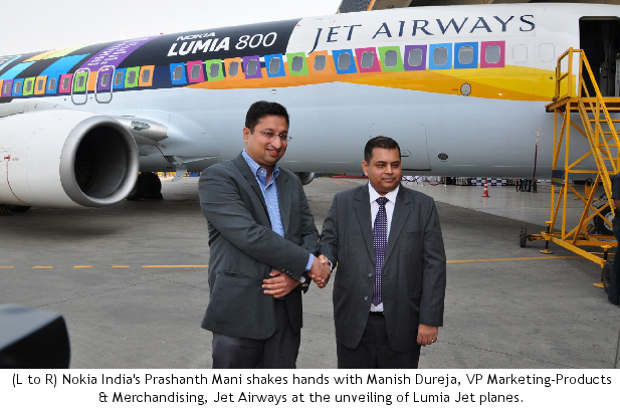 Nokia had launched two handsets under its Lumia brand in India in December 2011. The Nokia Lumia 800 comes with a 3.7 inch Amoled touchscreen display, 8 megapixel camera, with Windows Phone 7.5 Mango operating system.
On the other hand, Nokia's Lumia 710 smartphone has a 3.7 inch touchscreen display, 5 megapixel camera with Windows Phone 7.5 Mango operating system.
To compare both the handsets, click here.
Nokia Lumia 710 is available for Rs 19,000 while the Lumia 800 sells for Rs 34,000.