Sony has just released its latest smartphone in India-the Xperia Z – for Rs 38,990. The Android 4.1 Jelly Bean based Xperia Z is the first 5 inch smartphone of Sony. HTC, meanwhile, too just recently came out with its first 5 inch device, called the HTC Butterfly for Rs 45,000.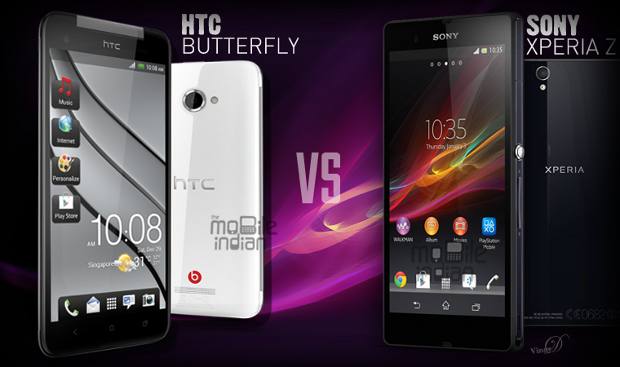 Both phones have 5 inch displays with 1080 x 1920 pixel resolution and Gorilla Glass 2 coating, Android 4.1 and 1.5 GHz quad core Qualcomm Snapdragon S4 pro processors. Despite their so much similarities, the two phones are very different, and here is how.
Design
While Sony Xperia has a rectangular but classy design with glass cover even at the back, which has subtle rounded edges; the HTC Butterfly has a curved back that is able to hide its bulk (at 9.1 mm it is 1.2 mm thick). It has a speaker grill design on the side with red inserts that makes it look like a trendy handset. Both handsets fit in the hands very well. In fact, it is surprising given that these are big devices. Both are well built and are water and dust resistant. However, Xperia Z has just one flaw -its capacitive buttons are placed on the screen itself, which eats up precious screen real estate that creates problem during playing games as well as while operating apps.
Display
Both the handsets come with great displays, that shows brilliant level of detail, vivid colour and sharpness. However, in Sony Xperia Z the black level is not really good, with black at best being dark grey. The other drawback is that the readability of Xperia Z in sunlight is not good in comparison to Butterfly, or other high end phones.
Performance
In terms of benchmark scores Sony Xperia Z trounces HTC Butterfly. The Antutu benchmark gives Sony a superb 20490, but only 14460 to HTC Butterfly (which is also very good). These scores show where smartphone performance is heading.
Anyhow, this difference is surprising since both phones have the same 1.5 GHz Qualcomm Snapdragon S4 Pro chipset and 2 GB RAM. In real life usage, however, you will not realise the difference, given that both handsets perform extremely smooth and there is no lag whatsoever.
Camera
HTC has an 8 megapixel rear camera compared to the 13 megapixel unit in Sony Xperia Z. However, both the cameras are really good. HTC Butterfly offers better customization. In terms of other features, both cameras offer the full gamut, including HDR (high dynamic ratio), picture while taking video, 1080p video recording at 30 frames per second, burst mode, panorama, face detection etc.
It is tough to take a call on which camera is better, given that both of them produce really great macro images, and low light capability is also good in both the smartphones. Better customisation and controls on the HTC camera tilts the balance in its favour, but those looking for no fuss photography will like the Xperia Z better.
HTC Butterfly, however, wins hands down in terms of front camera performance as it has a wide angle f2.0 lens and is great for self portraits, though the Xperia Z's front camera is also good and comes with Expore RS sensor even in the front offering very good low light photography, specially useful for video chats as most of it happens indoors where light is mostly low. Both the phone enable full HD recording even with front camera.
Battery
HTC Butterfly has a small 2020 mAh battery, compared to the 2330 mAh on Xperia Z; but while Xperia Z gets Lithium ion, HTC has used Lithium Polymer, which is said to be better.
Sony Xperia Z, with its Stamina mode, delivers better battery backup compared to HTC Butterfly, but both handsets are no champions on this front, lasting only a day of regular usage, and if you push them further with lots of games you need your charger within a day.
Software and other features
Both handsets have Android 4.1 and are likely to get Android 4.2 soon. Both companies have been putting their own user interface on top of Android, and both have their own fan following. These phones are no different and deliver a very easy to use interface with nice multimedia feature enhancements like Beats Audio with HTC, and Walkman with Sony, and social networking is also better with easier sharing and notifications.
However Sony seems to trump the Butterfly on one major aspect, India specific apps. Sony is offering a great music store with 15 lakh Indian and International songs, which can streamed and dowloaded for free for first 6 months and later can be used with subscription. Sony also has introduced Sony Liv and mobile TV service with Sony entertainment channels and six months free subscription.
What is attractive about Butterfly is that it will be getting the HTC Sense 5 user interface soon, which brings live tiles to Android and has garnered positive reviews from people who have seen it.
All in all people in India will love Sony's efforts more than HTC only because of Music app.
Verdict
Though HTC Butterfly scores over Sony Xperia Z vis-Ã -vis its better display and front camera, the Sony Xperia Z is definitely emerges as a winner in this contest as it is priced almost Rs 6,000 less than the former and comes with Music and TV service with India specific content. Sony also gets 8GB of free 3G downloads from Vodafone for two months which also enhances the total appeal of the Xperia Z. Also, Xperia Z has better overall performance which is palpable from its benchmark scores.