With the roll out of the Android Gingerbread upgrade version 2.3.3 Sony Ericsson has officially decided and communicated that the Sony Ericsson Xperia X10 Smartphone will no longer receive any upgrade.
The news was made official by Sony Ericsson UK through their Twitter post. The details were revealed when one of the Xperia X10 users asked Sony Ericsson about the possibility of Xperia X10 getting the 2.3.4 upgrade that was very recently rolled out for newer Xperia devices as well. Sony Ericsson in reply to the query responded "There will be no more updates for the Xperia X10".
So now with the confirmation on the updates front Sony Ericsson has cleared out its plans for the age old Xperia X10 Smartphone which has been running for well past 12 months time.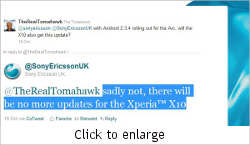 The good news is that although we knew that the phone will be discontinued form the updated bandwagon but it can be upgraded to Gingerbread 2.3.3 which has given a lot many functionality to the Smartphone which the earlier OS Froyo 2.2 upgrade had failed to address. At present the Xperia X10 gets the Mobile Wi-Fi Hotspot feature which was one of the much demanded features. Apart from that, users are able to share the 3G network data connection with their laptops with the USB tethering. Besides, the music player has also been updated with new equalizer settings so that music enthusiasts can adjust the music output as per their taste.
Along with that Facebook inside Xperia and timescape UI have also been upgraded through the latest upgrade. IF you haven't yet upgraded to the Android Gingerbread 2.3.3 upgrade then please head over to the How to update article on the website and upgrade your device.