With dozens of mobile phones hitting the Indian market each month, it is easy to forget about the old horses, but here are two mobile phones that are relatively old and still have the charisma and firepower that makes them favorites among many. The smartphones we are talking about are the Sony Xperia S and the Samsung Galaxy SII. Both are mid-range phones priced at around Rs 25,000 and are Android-based smartphones as well. Moreover, they come from reputed brands and have high-end specifications.
Here is a comparison of the two handsets. Since we have already reviewed the Sony Xperia S, we have an authentic idea of its performance, but our views on Samsung Galaxy SII are only based on its specifications and reports.
Looks and build
The Sony Xperia S comes with a 4.3 inch display, while the Galaxy SII has a slightly shorter 4.27 inch touchscreen. But when you compare their dimensions, the Galaxy SII seems to be thinner and broader with its 66.1 x 125.3 x 8.4 mm size. The Sony Xperia S, with its 64 x 128 x 10.6 mm dimensions, could be best said to be taller. The Samsung smartphone is also lighter at 116 grams compared to the 144 grams of Sony Xperia S.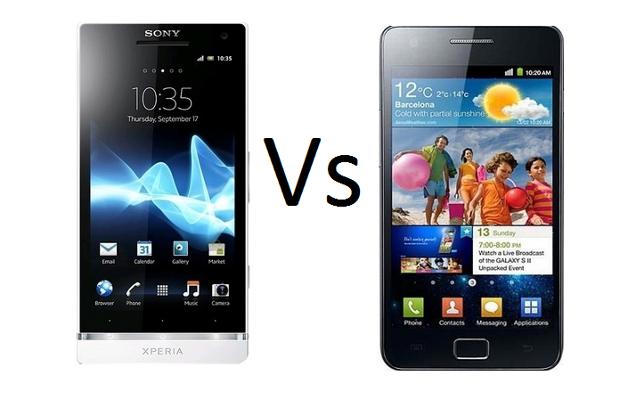 However, when it comes to the display, the Sony Xperia S scores over the Galaxy SII as it not only has a bigger screen but it also comes with 1280 x 720 pixel resolution. On the other hand, the 4.27 inch screen of Galaxy SII has 800 x 480 pixel resolution. Sony Xperia S has a transparent strip at its bottom, which is a style statement and considered unique by many, while others loathe it.
Operating system and processor
Both devices were initially launched with Android 2.3 Gingerbread operating system, but now both are to get Android ICS. Not only this, the two handsets are also expected to get the Android 4.2 Jelly Bean update in future. With regard to the operating system, both smartphones are at equal footing. Of course, you have to choose between the TouchWiz and the Timescape user interface, which come with Samsung and Sony handsets, respectively.
The Sony Xperia S has a slight edge when it comes to the processor, as it has a dual core 1.5 GHz Qualcomm Scorpion chipset, while the Samsung smartphone has a dual core ARM Cortex A9 processor clocked at 1.2 GHz. How much the clockspeed affects performance, we can't tell. Both handsets also come with 1 GB RAM.
Camera
The Samsung Galaxy SII comes with dual cameras – an 8 megapixel unit in the rear and a 2 megapixel unit in front. There is also an LED flash to take care of low light imaging. The Samsung Galaxy SII can capture videos as well with 1920 x 1080 pixel resolution at 30 fps (frames per second). There is digital zoom and a lot of other camera features found normally on high end devices.
Sony Xperia S, on the other hand, comes with a 12.1 megapixel rear and 1.3 megapixel front camera. It too has an LED flash and all the same features as the Samsung handset. We had vouched for the quality of its camera in our review of Sony Xperia S as well.
Battery
Both Sony and Samsung claim that with full recharge their phones' batteries support a talktime of 8 hours. However, Samsung claims a higher standby time of 610 hours on 3G networks and 710 hours on 2G, despite having a smaller battery of 1650 mAh Li-ion than the Xperia S, which has a 1750 mAh Li-ion battery. On the other hand, Sony says Xperia S gives only 420 hours of talktime on 2G.
Connectivity
Both devices have most of the common connectivity options like WiFi, Bluetooth, micro USB port, GPS and DLNA, but Sony Xperia S has an additional HDMI port that lets its users enjoy the phone's content on a bigger television screen.
Conclusion
Sony's smartphones are known for their camera and audio quality. The Sony Xperia S, apart from the above-mentioned advantages, is a newer handset than the Samsung Galaxy SII and looks different from most competitors in the market. The Galaxy SII is a well-established and much loved device, but in my opinion, it looks stale, and isn't very different from its siblings.