Sony Ericsson has unveiled three new devices for the Indian market – a smartphone, a Walkman series device and an entry level 3G device.
The first to hit the market would be the Sony Ericsson Xperia X8, which runs on Google's Android platform. This will be the last addition to Sony Ericsson's Android device portfolio for this year and will be launched in September. Although the phone will run on Android 1.6 at the time of launch, users will be able to upgrade the OS via the web.
The Xperia X8 will be priced around Rs 14,000 in India, informed Anurag Kontu, head of channel marketing, Asia Pacific, and head of marketing, India, Sony Ericsson.
Cedar, the next device in the line up, is an entry level 3G handset. Kontu added, "The device is for consumers who want to use basic 3G functionality without jumping to a smartphone." The phone will come with features such as 3G HSPA, Widget Manager 2.0 (an application which will allow users to access social networking via the stand by screen). The Cedar is part of Sony Ericsson's GreenHeart portfolio, which incorporate environment friendly technologies.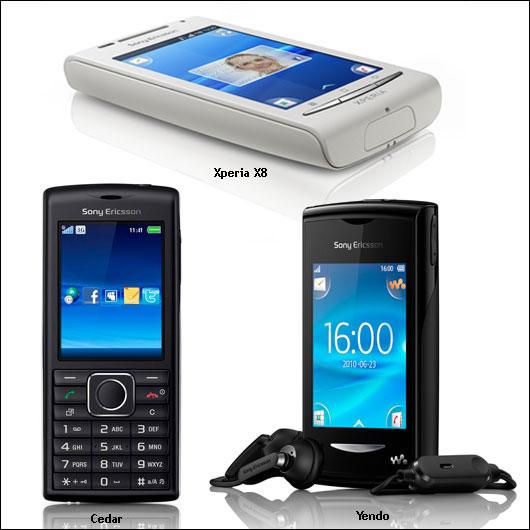 Another interesting addition to Cedar is that users will be able to transfer contacts from their previous phone to Cedar via GPRS. The company is working on integrating all available platforms with this feature. Cedar will be priced around Rs 6,000.
The third device Yendo, first showcased during CommunicAsia 2010, will be the first full touchscreen Walkman device. The phone will be launched in the first week of October and will be priced around Rs 8,000.
Yendo will be available in various colours, while two changeable back covers will be provided with the handset.
Sony Ericsson will also incorporate digital living networking alliance (DLNA) technology in its handsets starting December. DLNA is a group of around 250 consumer electronic manufacturers who have formed a consortium to produce standards based technology. DLNA compatible gadgets are meant to be able to share media seamlessly among one another.