With the festival season just around the corner, companies are fast coming up with exchange offers for their popular devices in order to boost sales. But before you go ahead and buy that new device in exchange of your old device and a reduced price, check the final price again; you may end up paying more. Here is an interesting instance of the Nokia Lumia smart upgrade offer, where users are given a price rebate on the MRP of the device in exchange of older devices.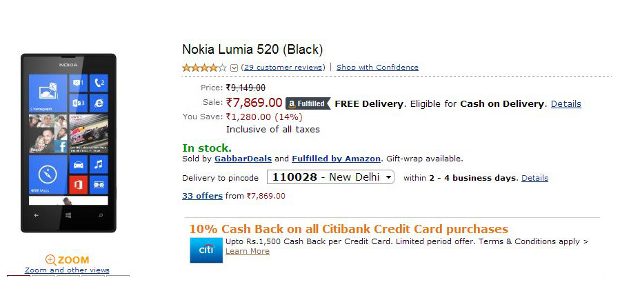 We have opted the Nokia Lumia 520 which carries an MRP of Rs 11,289, on which the company is giving Rs 4,000 rebate in exchange of an older smartphone (of course it should be qualified for the exchange offer). So we opted for the BlackBerry Curve 9300 which is qualified under terms of exchange. But to our horror, even after opting to exchange the BlackBerry smartphone, we had to pay Rs 7,289 for the Nokia Lumia 520 which otherwise is being sold at Rs 7,869 by Amazon. Additionally festive offers form various credit card companies, like in this case Citibank is offering up to 10 percent cash back on purchases. So if you have a Citibank credit card you get additional Rs 700 off approximately.



However, Snapdeal's exchange offer is much more lucrative. For instance, by exchanging the 1 year old BlackBerry 9300, you will get instant cash back worth Rs 1,733 on the Lumia 520. This brings the effective cost of the Nokia Lumia 520 to Rs 6,136.



It does not hurt to be smart and do a bit of research. Instead of going blindly by the offers that might look attractive, just do a little bit of research and save yourself some money.