A week after teasing its futuristic foldable smartphone, Samsung has announced the latest entry to its flagship Exynos 9 series of processors with the launch of the Exynos 9820 chip, as expected. The successor to the Exynos 9810 will be manufactured using an 8 nanometer LPP FinFET process which Samsung says will consume 10 percent lesser power than its predecessor.
The Exynos 9820 is made up of a new tri-cluster architecture that consists of two custom-designed cores, two high-performance ARM Cortex-A75 cores, and four energy-efficient Cortex-A55 cores. All of this combined offers a 15 percent boost in multi-core performance and 20 percent boost in single-core tasks. The Exynos 9820 is thus 40 percent better in performance than its predecessor.
Computational cores aside, the Exynos chipset also houses the Mali-G76 MP12 graphics processor that uses double channels and additional execution units. This just makes room for 40 percent improvement in the graphics category when compared to the GPU used on the Exynos 9810 and is also 35 percent more energy efficient.
Samsung's latest Exynos 9 series chipset comes with a Neural Processing Unit (NPU) for the very first time which will make artificial intelligence-based tasks easier to perform than the last generation Exynos 9 chip. Samsung says the Exynos 9820 offers up to 7 times more computing power to execute AI functions.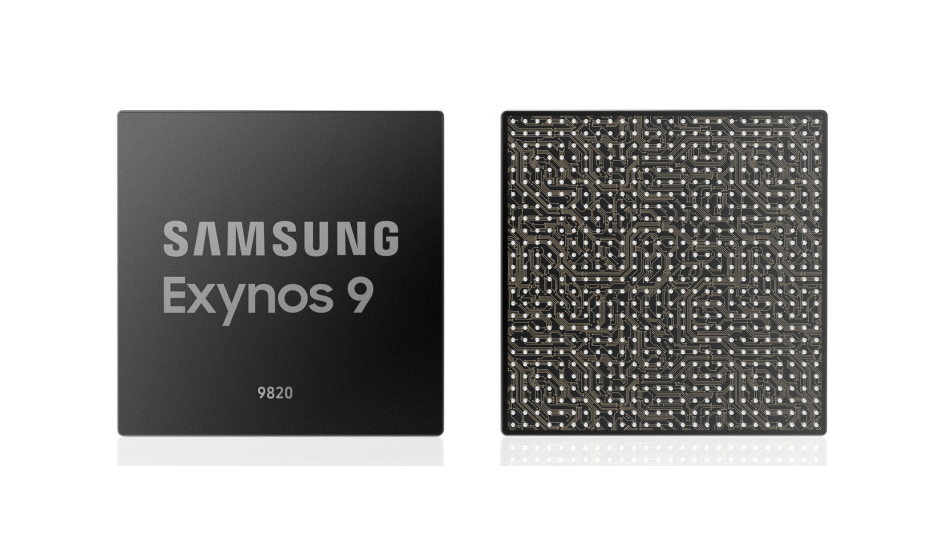 In terms of display, the Exynos 9820 renders support for 4K resolution of 4096×2160 pixels or a WQUXGA display with up to 3840×2400 pixels of resolution. For optics, the chipset will carry support for up to five sensors in total including infrared sensing elements for facial recognition. Both the front camera and rear cameras now support sensors of up to 22MP while dual camera setup will offer a maximum of 16MP units. Video recording on the Exynos 9820 will be compatible with 4K @ 120fps, 8K @ 30fps and 10bit HEVC/H.264/VP9 codec.
For connectivity, the Exynos 9 processor will be able to support 4G LTE with Cat.20 8CA, enabling a peak download speed of 2Gbps and upload speed of 316Mbps. Additionally, it comes with 4×4 MIMO, 256-QAM and Enhanced Licensed-Assisted Access (eLAA) technology. There's a security chip that will be able to store personal and biometric information including fingerprint and facial scans.
The Exynos 9820 chip from Samsung is expected to enter mass production by the end of 2018 and will feature first on the Galaxy S10 smartphone, which is estimated to arrive sometime during the first quarter of 2019.