World's No 1 smartphone maker, Samsung has also the largest share of Indian smartphone market, according to a recent research report,
According to the CMR's (CyberMedia research) report, Samsung has 41 per cent market share of the smartphone market. Samsung's smartphone market share could be much bigger but this research report doesn't include popular phones like Samsung Galaxy Grand, Note and Note 2 as it categorises them as Phablet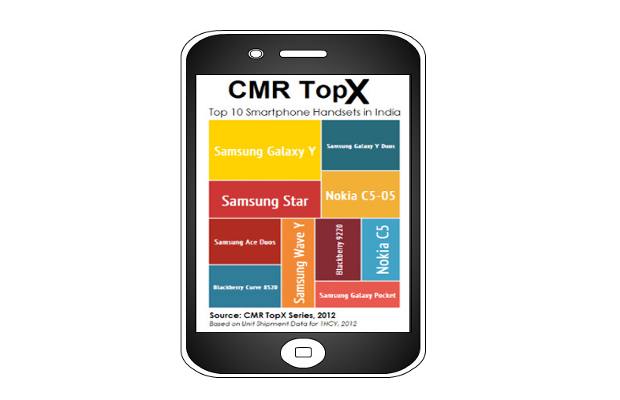 Nokia is at number two position with only 13.3 per cent smartphone market share and Sony Mobile is a surprise entry at No 3 position with 8.2 percent market share. Micromax is the number 4 player in this space, though its exact market share was not shared by CMR's press release.
However, when it comes to the overall mobile phone market share in India, Nokia is still at the numero-uno position with a healthy 21.8 percent market share. On the other hand, Samsung and Micromax had 13.5 per cent and 6.6 percent share in mobile phone market.
Meanwhile, as per the CMR report, the Indian handset market grew by a healthy 20.8 per cent in 2012 with 221.6 million handsets sold compared to 183.4 million handsets in 2011.
Interestingly, a major chunk of this number was constituted by feature phones; 206.4 million units of feature phone sold in the year despite industry pundits' prediction of a slowdown in the sales of these low cost handsets. To be exact, the feature phone market grew by a healthy 19 per cent. Perhaps this is the reason why Nokia and Samsung have turned their attention to the feature phone market lately.