Samsung has begun rolling out a new feature globally, called 'Temporary Cloud Backup', which offers unlimited Cloud Storage to its Galaxy smartphone and tablet users, but with a major catch. Know what it is and all other details about the new feature from Samsung.
"In situations where Samsung Galaxy users may experience anxiety about losing their data, including photos, videos and private files, this feature is designed to provide comfort and reassurance", said Samsung.
With this feature, users can choose to upload their data to Samsung Cloud storage via their Samsung Account, where it is always ready to be downloaded again. It is a free service, with no total storage limit. However, individual file sizes are capped at 100GB. In other words, the file you upload to the cloud shouldn't exceed 100GB in size. There is no need to use a PC or any external memory device, but Wi-Fi is required for data transfer.
The catch here is that the data is stored for only up to 30 days from the date of users' initial backup. Within this period, users will be able to restore their data whenever they want. Users are notified when approaching their time limit. Once the time limit has been reached, their data will automatically be deleted for forever.
Read More: Samsung Galaxy SmartTag2 launched in India: Specs, Availability
Why isn't the 30-day time limit an issue?
The 30-day time limit isn't an issue because Samsung isn't advertising the feature as a cloud storage solution but as a convenient feature for users to temporarily store their backups if they do not have an external storage device or some other solution.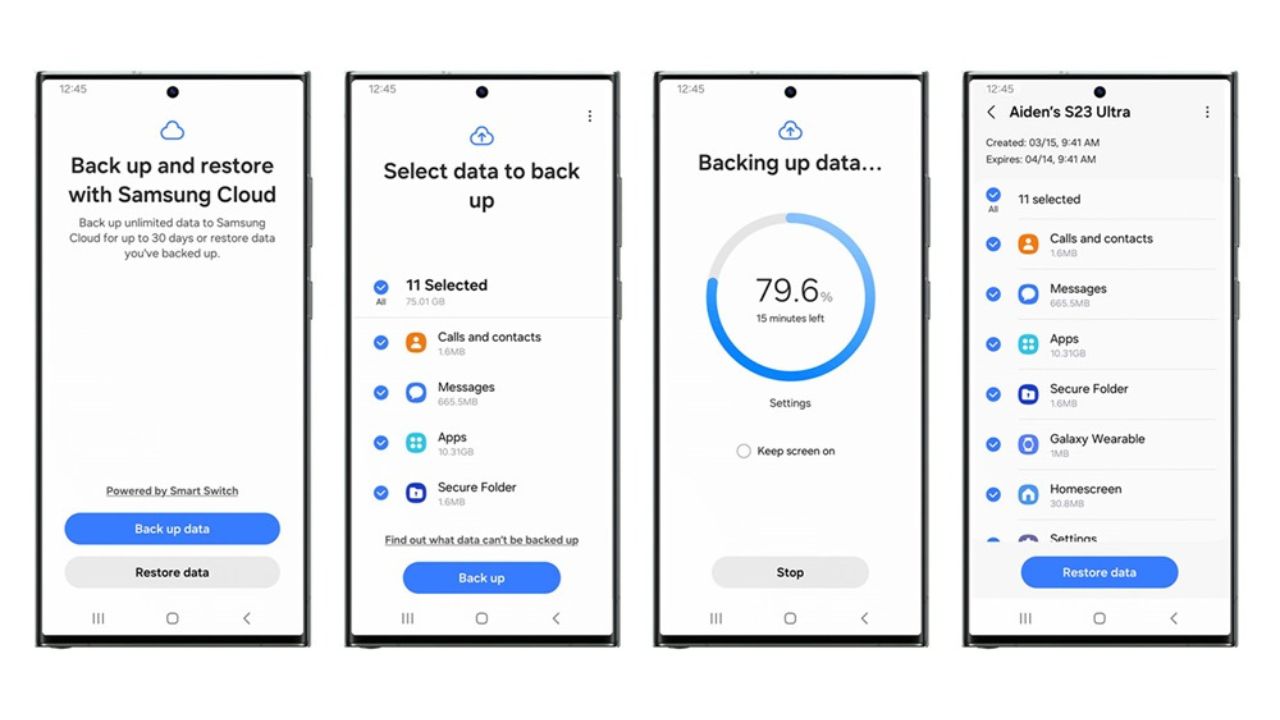 Further, Temporary Cloud Backup is an ideal service for ensuring data is preserved in various scenarios where users may be worried about losing their data, such as when getting a smartphone repaired. Samsung now includes the Temporary Cloud Backup as part of Maintenance Mode, including private files within the Secure Folder, can be safely backed up for recovery after repairs.
Maintenance Mode is a feature in Galaxy devices where it creates a separate user account when you hand in your device to be repaired so the Samsung staff can operate core functions without being able to access any of your private information.
Then, users configuring their new device for the first time can restore their data via the temporary cloud backup as part of Setup Wizard. Even if they skip this stage, they can find Temporary Cloud Backup at any time within Maintenance Mode or the Reset function, enabling free and easy restoration at their convenience.
The full global rollout of Temporary Cloud Backup takes place starting this fall for all Samsung Galaxy smartphones and tablets operating on One UI 6, starting with Galaxy S and Z series smartphones in Korea.