Research In Motion (RIM) has updated its BlackBerry conferencing application, adding a couple of new features to it.
The application, which was announced back in the month of June, has been a great hit amongst the business community in particular because of the easier conferencing and collaboration options it provides.
With the new update, the application has become simpler with a moderator to convert an email invitation to a conference invitation with one click. With up to ten conferencing profiles, users will now be offered conference connectivity to various groups without the need to modify things or setting often.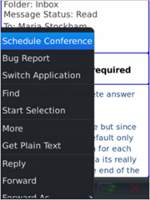 Other improvements include a better algorithm to detect calls and conferencing mails and help in automating the whole process as much as possible. And with the added profiles for conferencing, the updated application will now automatically identify the participant code and help the user in bridging the conference without the need to enter codes for manual participation.
The BlackBerry conferencing application is available for download on all OS 7 and OS 6 devices. But as of now the service has not been enabled for the users in India. Considering the recent launch of the BlackBerry Bold 9900, it is highly expected that RIM will be announcing the launch of the conferencing service in India as well.
Although the new timeline is not clear as to when this service can be expected but it is anticipated that the conference service will be announced along with the launch of the newer torch devices which are expected to launch in the coming months.