Mobile technology provider Qualcomm, which bagged BWA (broadband wireless access) spectrum in only four circles, is in talks with telecom operators to provide 4G services all over India.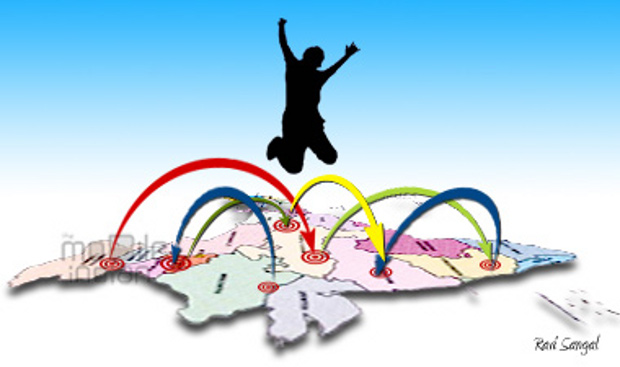 Qualcomm may bring LTE or 4G services in India by mid-2012. It is in talks with GSM and CDMA operators in India to form partnerships so that its would-be customers can enjoy high speed data access using either the LTE or 3G GSM or EVDO (CDMA) technologies while roaming across the nation, a person close to the development informed The Mobile Indian.
Last year, Qualcomm bagged BWA spectrum in four circles including Bombay, Delhi, Haryana and Kerala for nearly Rs 4,912 crore. The move to have a roaming agreement is a logical one given that LTE is backwards compatible with both 3G (HSPA) and EVDO technologies, and will enable the company to compete well with Reliance Infotel, the only pan India operator in the space.
We also got information that Qualcomm will get into the CDMA data service business in partnership with two or three CDMA operators. However, the company is yet to confirm this piece of information. The move can be an effort to revive the CDMA business in India, which is constantly losing market share to GSM, despite offering better spectral efficiency and cheaper data services at a reasonably high speed.
Qualcomm owns most CDMA patents and earns royalty from CDMA technology, and the slide in its market share hurts the company's revenues. Therefore it is logical that Qualcomm would like the service to be more popular.
Of the three CDMA operators in India, Tata Teleservices and Reliance Communications also have GSM networks on which they seem to be focusing more than they are on their older CDMA business. If Qualcomm makes a move of this sort, it might be able to popularise the CDMA business again with its advanced technology (by offering more speed) and through its device manufacturing partners by bringing in more devices to the market. And as many would be aware, there aren't many phones with CDMA network and this is one of the main reasons why people do not prefer a CDMA connection.
Whichever strategy it adopts, Qualcomm will be able to achieve its objective of giving nationwide coverage to its LTE customers, and with the second option of having its own data service on CDMA network by partnering with a CDMA operator, it will achieve the goal of popularising CDMA as well.
If indeed Qualcomm decides to operate its own CDMA based data network, one thing which we think is ruled out is a roaming agreement on the lines of the one that Airtel, Vodafone and Idea Cellular have formed. It would be more like what Tata did with Virgin Mobile, and will be a joint venture (JV) model in all likelihood.
The announcement of the strategy will, however, be made once the company gets the internet service provider license that it is yet to receive, but which is expected to be granted soon by the government.