OnePlus is leaving no stone unturned to build up the much-needed hype around its upcoming flagship device, the OnePlus 5. After OnePlus co-founder Carl Pei started a fresh debate about the placement of the headphone jack, company's official Twitter handle has posted a photo, which is taken from the upcoming flagship smartphone.
The image posted on the micro-blogging site shows a side-by-side image of a bridge and the company is asking viewers to guess which photo was shot with the OnePlus 5. The second image shows improved low-light performance coupled with vivid colour output, while the first image looks a bit dim, hazy and a bit washed out. The second one is presumed to be taken from the OnePlus 5.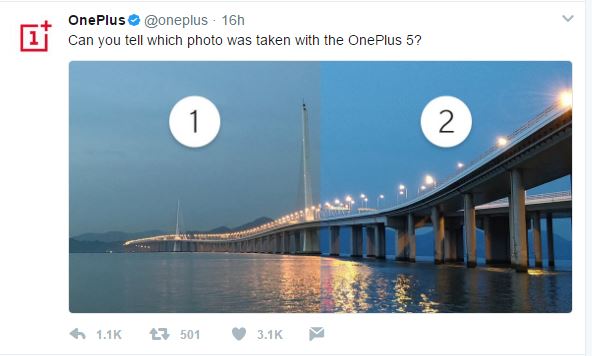 Previously, the company had partnered with DxO to enhance the camera experience on OnePlus 5. For those who are not aware, DxO is brand behind the popular photography benchmarking site, DxOMark. The site recently awarded HTC U11 with the highest rating for a smartphone camera. Earlier, Google Pixel got the highest DxOMark score. However, the details of the partnership were not revealed by the company, but looking at the tweet image, it is clear that OnePlus 5 would compete with the likes of HTC U11 and Google Pixel in terms of camera performance.
OnePlus is reported to add dual-camera setup on its flagship device but the bone of contention lies in the placement of the cameras. Some reports, including this one, indicates that it will be vertically aligned, but other indicates that it will be aligned horizontally.
Recollecting some previous leaks, OnePlus 5 will run on the latest Android 7.1.1 Nougat and will be powered by the latest Qualcomm Snapdragon 835 processor along with Adreno 540 GPU. The smartphone is reported to boast a Full HD display with a screen resolution of 1080 x 1920 pixels, which contradicts previous rumours predicting a Quad HD display for the upcoming flagship device. The screen size will be of 5.5-inch. The device will be backed by a 6GB of RAM and 64GB of internal storage.
It is also reported that it will come with a bigger 3600 mAh battery (Evan Blass leaked a 4000 mAh non-removable battery). Interestingly, similar to what we saw on OnePlus 3 and 3T, OnePlus is likely to go with a front-facing fingerprint scanner at the front. OnePlus is also expected to introduce the new Dash Charge 2.0.