Microsoft has released an official Hotmail App for Android. The company will also bring native Hotmail app for the iOS 5 running Apple devices, said Bryan Saftler, Hotmail product manager for Microsoft Consumer and Online UK to the Pocket Lint.
In an official blog, Microsoft has also shared its plans to fight spam and provide ample of tools for the users to block out spam. Besides that the company aims to ramp up Hotmail interface once again; same would be reflected in the mobile app version of the Hotmail.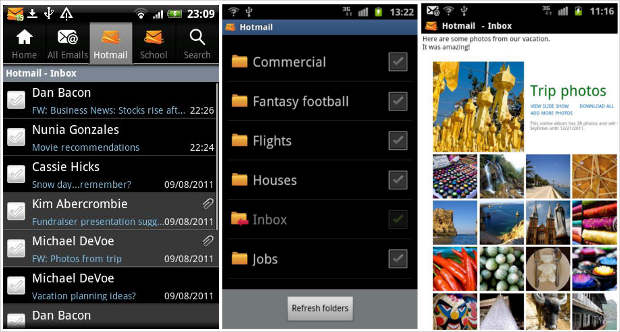 The official Hotmail app for Android has black background based interface and depends on push mail mechanism to fetch emails. The app also allows keeping calendar and contacts in sync with the Android mobile phone. Hotmail account owners can view even their sub-folders and even send photos to other contacts using the Hotmail app.
Most importantly, the Hotmail app allows users to add attachments to email, receive mails with attachments and even view them. Along with that, the Hotmail app supports multiple accounts in single app.
Officially, it is now available for download from the Android Market. Microsoft plans to release native Hotmail app for Apple iPhone, iPod touch and iPad once the iOS 5 is released for public.