Google last year, during its I/O conference, announced a new feature known as Instant Apps, which would allow one to open and use apps from anywhere. Now, nearly after eight months, the company has finally rolled out this feature, but to some select people.
As per a report by Audroid, the search engine giant has finally rolled out this feature to select smartphones and 'Wish' seems to be the first app to come equipped with this feature. For those who are not aware, Instant Apps basically allows users to open and use applications, without having to download them in the first place. For this, your Android smartphone basically downloads only the necessary code like images and fonts etc. for the specific apps. This is somewhat similar to streaming, but in this case, you are streaming apps.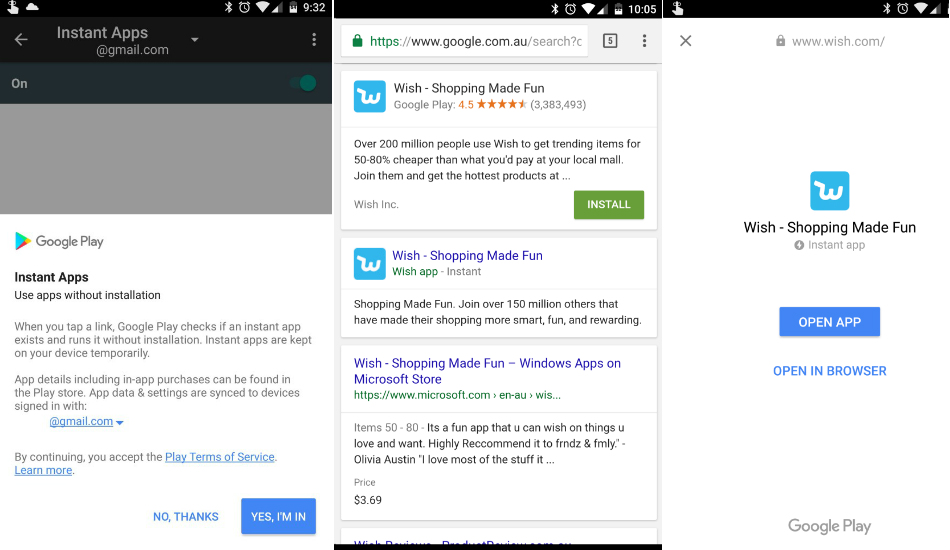 The report further mentions that some users with Android 7.1.1 Nougat pre-installed are able to use this feature. But mind you, only handful of people are getting this feature and not everyone. In order to check if your device supports this feature, you can follow the following steps:
Go to Setting menu
Scroll down and tap on Google
Under the Services subhead, search for Instant Apps
Tap Instant Apps and enable it. There will be pop up for Terms and Conditions.
Click Yes, I'M IN and you are all set to use this feature
Congratulations, you have just activated the Instant Apps. To use this feature one can simply open up the browser and search for applications. However, the list of Instant Apps includes Wish, Viki, Buzzfeed, and Periscope and as per various report Wish is the only app that supports this feature.