Nokia said that it is planning to bring its latest high end smartphone N8 to India in September. This is the first Nokia device that uses the Symbian 3 platform.
Speaking at a press conference, Mary McDowell, executive vice president, mobile phones, Nokia Corp, said, "We will be launching the N8 in India in mid September." Nokia claims that it controls 72 per cent share in the smartphone segment in India, and about 42 per cent globally.
McDowell also said that Nokia will be rolling out its second Linux Maemo operating system device later this year. It had launched its first Maemo phone N900 in India at Rs 31,000 in June this year.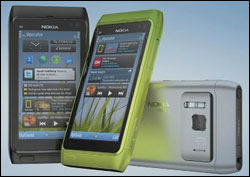 The Nokia N8 brings with it a 12 mega Pixel camera and Xenon flash set in the rear of the phone. It comes with HD quality video recording, film editing software and Dolby surround sound.
The smartphone offers the ability to make HD quality videos and edit them with an intuitive built in editing suite. Users can plug the device into their home theatre system to watch HD movies.
The N8 will come with free global Ovi Maps walk and drive navigation covering more than 70 countries. The phone also offers multiple, personalisable homescreens which can be loaded with apps and widgets.