Electronic Arts, which is popular for mobile games like Need for Speed, has announced a tie up with Nokia under which its top 20 games will be available exclusively for Nokia mobile phones. We have seen some EA games in the past being bundled and available for Nokia devices but now they will come as exclusives for Nokia phones only and that too on both feature phones and smartphone platforms.
During a Nokia event on October 27, Barry Cottle, executive vice president and GM for EA Interactive announced the availability of EA content exclusively for Nokia phones in the coming days. Starting with the S40 platform, EA will make its 40 popular games for Nokia users available free of cost.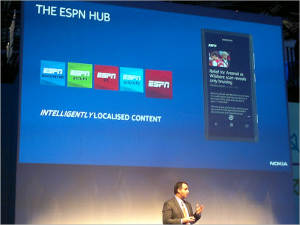 Electronic Arts will also provide games for the upcoming Nokia Windows Phone based smartphones. EA plans to launch 20 of its most popular titles for Nokia Windows Phone devices, and of these, seven games will be from the very popular Hasbro line-up especially for Nokia users worldwide.
Although not much information has been revealed about the cost of these games on Windows Phone it is assumed that they will be available for free same as the S40 games.
Along with games for EA, ESPN has also showed a great interest in Nokia phones worldwide and will soon launch a combined application for its various services for Nokia devices around the globe.
All these games and applications are expected to be launched in the coming months but we can expect them to come in installments starting with the most popular titles, but no definite timeline is currently available.