To show its commitment for the emerging market Nokia has unveiled the Asha lineup, a series of lower-end mobile phones that run Series 40, The mobile phones named as 200, 201, 300 and 303, are all designed to encourage the "next billion" users to access the web.
Nokia's new Asha mobile phones come with all the features needed to connect with the online world at an affordable price, plus some nice add ons which are normally expected on more expensive devices.
Nokia Asha 200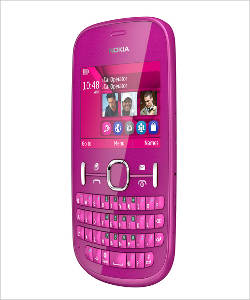 Nokia Asha 200 is a dual SIM phone with easy swap which allows users to switch one SIM without turning off the phone. And via the sim manager one can personalise user profiles for up to five sim cards.
The Nokia 200 also has shortcuts for social networking, email, IM and others including RenRen, Orkut and Flickr support. With support for up to 32 GB memory card, one can listen to a choice of thousands of songs for up to 52 hours. It also has a 2-megapixel camera.
It weighs 105g and shapes up at 115.4mm x 61.1mm x 14mm. Talk time is up to 7hrs and there's a 36-hour standby time. Expect to pay around €60(Rs 4,740).
Nokia Asha 201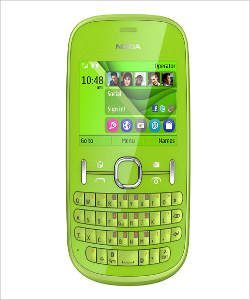 Nokia Asha 201 is the single SIM version of the 200 and is aimed at young music lovers. One can get the same music storage and listening time as the 200, as well as social networking, including support for WhatsApp, messaging app, easily downloadable from the preloaded shortcut or via the Nokia Store.
Measuring 115.4 mm x 61.1 mm x 14 mm and weighing 105g, the 201 has a talk time of up to seven hours and standby time of 35 days. Its price has not been announced.
Nokia Asha 303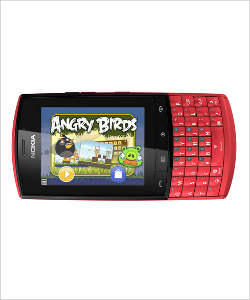 Nokia Asha 303 a 2.6-inch touch screen, with Qwerty keypad, is driven by a 1GHz processor, making it as powerful as most smart phones. This powerful engine contributes to delivering a very fast internet connection via 3G and WiFi. There's also one-touch access to your music player, with 47 hours of play time on a single charge and a 3.2-megapixel camera. This phone works in landscape for games and portrait for chat. It is priced around €115 (Rs 9,000).
Nokia 303 will come in seven colours – red, graphite, silver white, aqua, green, purple, weighs 97g and measures 116.5mm x 55.7mm 13.9mm. Asha 303 has a talk time of around eight hours and a standby time up to 30 days. It comes pre installed with Angry Birds Lite, Facebook Chat, Whatsapp and Nokia Maps for Series 40 (in selected markets). It will be available before the new year.
Nokia Asha 300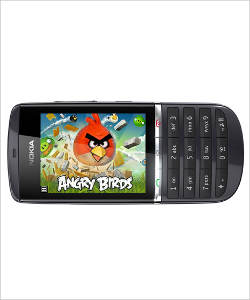 Next up, the Nokia Asha 300 also features a touchscreen and key pad. It has a 1GHz processor and is 3G ready. It comes preloaded with Angry Birds Lite and offers fast access to messaging, email and instant messaging.
The Nokia Asha 300 comes with a 5-megapixel camera with video. It also feature music player, FM radio, Bluetooth and memory card capacity of up to 32GB.It weighs in at 85g and measures a sleek 112.8mm x 49.5mm x 12.7mm and boasts talk time of 6.9 hours and 22 days stand by time.
It is priced around €85 (Rs 6715) and will be available in six colours – graphite, night Shade, gold, white silver, pink and red.