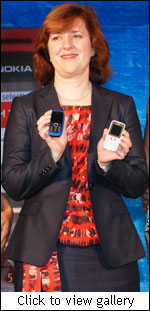 The Finnish mobile phone maker Nokia today unveiled its first two dual SIM phones in India – C1 and C2. These two devices are from the Nokia C-series range.
As reported earlier by Telecom Yatra, the Nokia C1 (C1-00) will be launched globally by mid-September and the Nokia C2 (C2-00) will be launched later this year.
On being asked why Nokia entered the dual SIM segment so late, D Shivkumar, managing director, Nokia India, said, "The dual SIM market in India took off only in the last one year, mainly due to the tariff war amongst telecom operators. These phones have been in the market from the last 5 years, but they never picked up so fast. Right now the segment is significant and we feel that it is the right time to enter this market."
Nokia C1 will be available at Rs 1999 and a user can use it only for voice and SMS. It comes with a standby battery time of up to six weeks, the longest ever for a Nokia phone.
Nokia C2 will be priced around Rs 2500 and will comes with services such as Ovi Life Tools and Ovi Mail. It also has a music player and supports micro-SD cards of up to 32 GB.