Asha 311 has brought immense success to Nokia in recent times. The handset was launched in August 2012 but no other handset maker launched a product as appealing until this month. Earlier this month, Samsung brought a new series of 'smart feature phones' under the brand name – Rex.
The costliest handset in this series is the Samsung Rex 90, which is priced at around Rs 6,500 – same as the Nokia Asha 311, which, however, is now available for even less than Rs 6,000.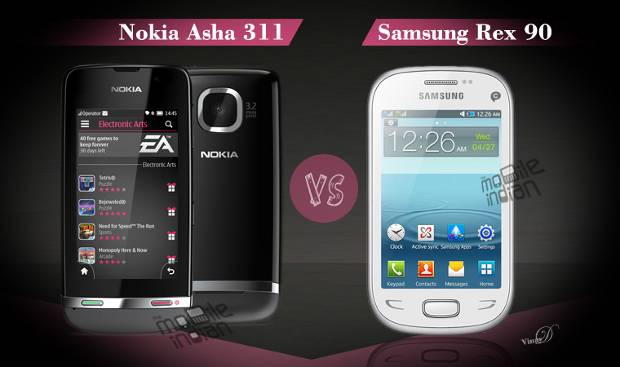 So here is a comparison of these two phones on the basis of their features alone. Though we used the Rex 90 for a brief time, we have not reviewed in detail any of these two handsets so we are comparing them on the basis of their features only. Real life performance of these handsets may differ.
Display and body
From the dimensions, it is obvious that the Rex 90 is a slimmer handset with 11.9 mm thickness while Asha 311 is 12.9 mm thick. The Samsung handset is bigger with 113 mm height and 61.9 mm width while the Asha 311 has 106 mm height and 52 mm width.
The Nokia Asha 311 comes with a 3 inch display with 240 x 400 pixel resolution. On the other hand, the Samsung Rex 90 has a 3.5 inch display with 320 x 480 pixel resolution. So in a nutshell, the Samsung handset has a better 165 ppi pixel density as compared to the 155 ppi pixel density of Asha 311, so images are expected to look better on the Rex 90 than on the Asha 311.
However, Asha 311's display has Corning Gorilla Glass that gives it protection from minor scratches, but on Rex 90 there is no such protection.
Camera
Both the handsets come with a 3.15 pixel rear camera but miss out on a front camera. So there is not much of a choice in this regard.
Connectivity
Nokia Asha 311 has 3G, micro USB, WiFi, and Bluetooth 2.1. Asha 311 also has the Nokia browser preloaded that, according to the company, uses less data than any other browser. The Rex 90 is a dual SIM handset, as compared to the single SIM facility of Asha 311. The Samsung handset also has a USB port, Bluetooth 3.0 and WiFi (b/g/n).
Battery
Here too there is a close battle. While Samsung Rex 90 has a 1000 mAh Li-ion battery, the Nokia Asha 311 comes armed with a 1110 mAh Li-ion battery that claims to provide 14 hours and six hours' talktime over 2G and 3G networks, respectively. Though officially Samsung has not said anything about battery back up, since Rex 90 has a slightly bigger display it is expected to give marginally less talktime.
Apps
Samsung Rex 90 comes loaded with normal applications like Chat On, Twitter, Google+, Facebook etc. However, Asha 311 comes with all these apps besides its popular Nokia Maps application, which is considered the best navigation application currently available in India and has even been rated above the Google Maps application due to its accuracy and performance. At the time of launch, Nokia was also providing 40 EA games with Asha 311 for free but we are not sure whether that offer is valid as of now or not. But if it is available, then Asha 311 definitely has an upper hand over Rex 90.
Performance
The nature of the processor used in Samsung Rex 90 is not known but it is speculated that its clockspeed is around 500-600 MHz. On the other hand, the Asha 311 has a 1 GHz processor.
Conclusion
The Samsung Rex 90 is not only a new handset but it has some advantages over the Nokia Asha 311 like a bigger display, faster Bluetooth, dual SIM, and a better user interface (said to be inspired from Android UI). But the Nokia Asha 311 has been liked by many. It has a better maps application, marginally better battery, better processor, better battery and of course the benefits of EA Games. But what changes the game in favour of Asha 311 is its price; it is currently available for around Rs 5,500 from some retailers while the Samsung Rex 90 is priced at Rs 6,490 despite having specifications similar to the Nokia handset.