Following yesterday's revelation about Nokia's plans to develop 1 GHz processor loaded Series 40 handsets, we have spotted images of one of these devices. A Nokia handset codenamed Zeta, with model number 700, was photographed and secretly shared on GSMArena. This Nokia 700 Zeta prototype has a 3.2 inch Amoled display and is touted as the thinnest mobile phone in the Nokia lineup.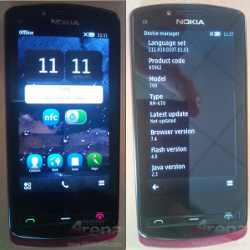 Nokia 700 protoype handset has a 3.2 inch capacitive Amoled touchscreen nHD display. This handset will run on a 1 GHz processor and will feature Symbian Anna's successor, Belle. Symbian Belle is one of the many significant updates promised to Nokia users. At the bottom, the Nokia 700 features a coloured speaker mesh.
The phone might be branded as N7 and will have a 5 megapixel camera with LED flash at the back. There's also a front facing camera for video calling. Nokia has added a Near Field Communication chip in this handset. Packing a 1080 mAh battery pack, Nokia 700 Zeta supports HSPA+ and WiFi (802.11 b/g/n).
There will also be a variant of Nokia 700 dubbed Helen or Nokia 701, which will have a 3.5 inch LCD ClearBack display, 8 megapixel camera and Symbian Belle update.
Nokia plans to develop many affordable feature mobiles based on these and similar specifications.