Nokia is all set to announce three new smartphones running Symbian Belle update today . The three new devices &#151 Nokia 700, 701 and 600, will also bring the company's first Near Field Communication based handset for India.
The Symbian Belle update succeeds the recently rolled out Symbian Anna update and will bring new NFC pairing functionality along with other set of improvements. This update will be rolled out gradually for the Symbian Anna supporting devices in coming weeks.
Nokia 700
Nokia 700 is touted to be the world's smallest smartphone and was previously codenamed as Zeta. Flaunting a 3.2 inch Amoled "ClearBack" display with Gorilla Glass with 320×640 pixel resolution, this handset houses a 1Ghz ARM design based processor. This handset is said to be made using recycled metals and bio-plastics. It will come in five different colours. At the rear, Nokia 700 features a 5 megapixel full focus camera that is capable of recording 720p HD video at 30fps.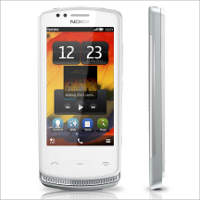 Nokia 700 features Bluetooth 3.0 that promises faster data transfer speeds (up to 24Mbit/s) and also consume less power compared to the previous generation Bluetooth 2.1 based devices. With up to 2 GB internal memory, the Nokia 700 handset comes with 1080 mAh battery and offers up to 7 hours of talk time on 2G and 4.5 hours of talk time on 3G. Nokia 700 comes with integrated GPS, Compass, Accelerometer and WiFi network support.
Nokia 701
Claimed to be the brightest smartphone, Nokia 701 previously codenamed as Helen and comes with 3.5 inch IPS &#151 LCD ClearBack display with Gorilla Glass. The display comes with 16:9 aspect ratio and 360×640 pixel resolutions. This display supports multi-touch and comes with proximity sensor as well as accelerometer. Even this handset houses a 1 GHz processor. At the rear, the Nokia 701 has 8 megapixel camera with Dual LED Flash and 2X Digital Zoom. The camera is capable of recording 720p HD video at 30 frames per second and apparently comes with a front facing camera for video chat.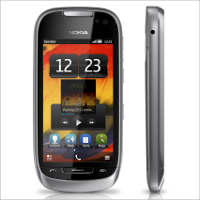 This handset features Stereo FM with RDS and Bluetooth 3.0 that promises low power consumption and higher data transmission speeds. This handset supports 3G as well as WiFi for speedy data connectivity. Its 1300 mAh battery offers up to 7 hours of talking time over 2G and about 6.5 hours of talktime over 3G Networks. Nokia will offer this handset in three colours.
Nokia 600
Music listeners would certainly love this handset which is touted as the loudest smartphone as the loudness of its speaker is estimated at 106 Phons. Previously codenamed as Cindy, Nokia 600 comes with 3.2 inch TFT LCD display with 16:9 aspect ratio and nHD (360×640) pixel resolution. Even this handset comes with 1 Ghz processor to power the new Symbian Belle update. At the rear lies the 5 megapixel camera with full focus and capability to record 720p HD video at 30fps.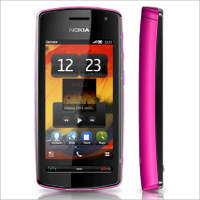 This handset too comes with Bluetooth 3.0 for high speed data transfer at low power consumption and WiFi network support for wireless data connectivity. Internationally, this handset comes with FM transmitter and internal FM Radio antenna but we need to check if it will be available for India as well.
Featuring pentabend 3G network support, this handset comes with 1200mAh battery which promises 15 hours of talk time over 2G networks and 6.5 hours of talk time over 3G networks. Nokia 600 will be offered in three different colours as well.
All three new Nokia Symbian Belle running handsets will come with Near Field Communication chip to spur the peer-to-peer pairing as well as mobile payments scene in India. All three features – GPS, WiFi and Bluetooth 3.0, make them as the top of the line and modern day smartphones.
Pricing of these three handsets would be according to the features offered. Nokia 600 will fall in the mid-range segment with cost price of about Rs 12,000 while the Nokia 700 will come at slightly higher price of about Rs 18,000. The Nokia 701 will be the high end Symbian Belle device costing anything near Rs 20,000.