A new GSM-based remote motor controller has been made which allows farmers to control their irrigation pumps through their mobile phones.
This controller, called Kisan Raja, has been developed by Made by one Vijay Bhaskar Reddy Dinnepu, from Andhra Pradesh, who quit his six-year stint at Cisco in August 2010 as a technical leader to help farmers simplify lives. People in his village faced scarcity of water and electricity, so he decided to create a solution that will help them switch on the motor whenever electricity comes without the need to venture out at odd hours or when they are busy doing something else.
Kisan Raja, which weighs 1.25 kg, sits between the power phase and the starter. The device triggers the start button on motors when commanded to do so by the farmer, who uses his mobile phone as a remote controller.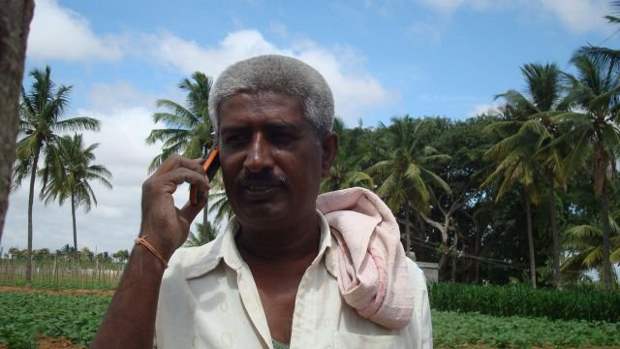 The device can be set on three modes: Manual, automatic or timer. "If power goes off during the time a motor is supposed to be on, the software's intelligence can calculate the remaining number of hours it needs to pump water once power's back," Dinnepu explains.
All commands on mobile phones are given through interactive voice response (IVR) and a farmer simply has to punch in numbers corresponding to an instruction of his choice. Kisan Raja can also monitor other aspects like voltage fluctuations, wire cuts, theft or dry runs, in which case a farmer gets a call alerting him of the same. It can also be connected to submerged motors – those placed underground when water levels sink.
On the security side, it doesn't accept calls from numbers that aren't configured on the device. To configure the device, one has to manually key in their security code.
Currently Kisan Raja is available across Andhra Pradesh and Karnataka for Rs 6,000. It comes with an in-built lithium-ion battery, similar to those found in mobile phones to decrease weight and size. This has helped farmers to use the same device with different motors in different seasons.
To combat power fluctuations, Kisan Raja has been designed for a range of 300-500 watts. Even the IVR language is set to match the spoken language of the farmers to make it easier for them to operate and understand the device.
Kisan Raja comes in three new versions – an ultra-light version weighing 800 grams costs Rs 3,500 but has minimal features. The basic version costs Rs 5,000, while another one costs Rs 7,500 which will be a multi-motor controller.