Galactic Shooter Lite, a snooker like game, has been launched for the Android devices. Its developer, Armada Animations, has tried to present snooker in a totally different way.
In this game, users or players have to use their snooker or pool skills in order to achieve the target which is to cover a star with the moon or a smaller planet while avoiding obstacles. The game is based on projectile inputs and users can control the angle, speed and the direction of the hit. The players play as an alien who sits in his space craft and shoots at other planets or stars in order to achieve his goal.
The Galactic Snooker Lite is the first ever Armada animation to feature on the Google Android Market.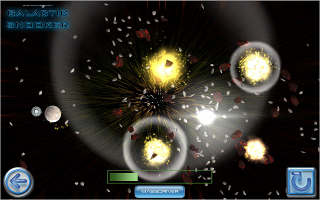 The developer has released just the Lite version of this application that gives access to 15 levels with different levels of difficulty and target. The developer also plans to launch the paid version of this App soon that will feature 30 different levels with a whole new graphic interface and a level creator as well that will allow users to design their own custom levels.
The Galactic Snooker application is available for free for download from Google's Android Market. Users can search for the application on their devices or on the computer or alternatively users can also follow this link to download the application.