Few days after images of the purported Amazon Kindle HD tablet surfaced, EVLeaks has now posted an image of the Kindle Fire HD tablet press render on Twitter. No other detail about the tablet though mentioned on the posting.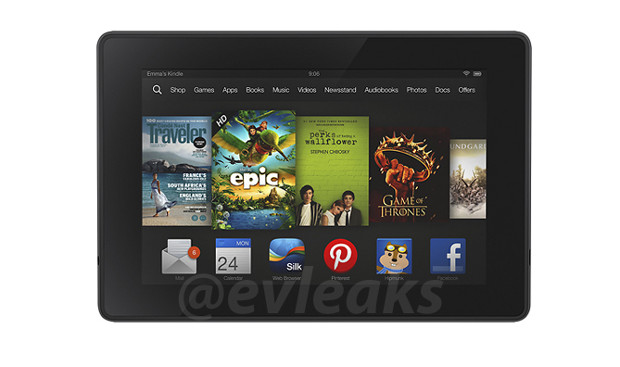 Earlier, it was reported that Amazon is working on two versions of Kindle Fire HD – one with 7 inch and the other with 8.9 inch. The new Kindle Fire HD 7 is expected to have a 7-inch IPS LCD display with 1920×1200 pixel resolution natively. This tablet is expected to be powered by the quad-core Qualcomm Snapdragon 800 System-on-Chip with 2 GB RAM. Also the Kindle Fire HD 8.9 will feature 8.9-inch display with 2560×1600 pixel resolution natively and will have the same Qualcomm Snapdragon 800 SoC and 2 GB RAM inside.
Both tablets will be offered in three different storage options – 16 GB, 32 GB and 64 GB. There is no clarity on existence of a memory card slot in these models. Amazon will use the latest Android 4.x Jelly Bean update for the new Amazon user interface on this tablet. The cloud service powered Silk will deliver faster web browsing performance. Based on the recent leaks, we estimate that the announcement of the Amazon Kindle Fire HD tablets can be expected in coming few weeks.