As reported yesterday by The Mobile Indian, Research In Motion is all set to announce the launch of its newest BlackBerry smartphone and along with that RIM will also taking wraps off the new OS 7 for BlackBerry devices.
There has been a lot of speculations going on about what type of a device will it be. But looking at the way RIM has been launching devices now, the new smartphone will definitely be a touchscreen based device.
There is a high probability that RIM just might introduce another full touch and no keypad based device that takes on where the Storm 2 left.
Some images of the new devices have also surfaced through various sources which shows the device as a full touch device with a bigger 3.7 inch touchscreen and four keys on the face.
Other specifications for the device remain similar to the ones that are featured on the new touch and type Bold 9900 device such as a speedy 1.2 GHz processor that will be coupled with a total of 768 MB of RAM and a 8GB internal storage to take of the new OS and supporting files plus some user content as well.
Social media will be a highlight of this new operating system and this BlackBerry OS 7 will be completely optimised for touch based devices, so no matter how big your fingers are now using a BB device will not be an issue.
The new OS will also feature NFC with improved connectivity options with the BlackBerry PlayBook. The native BlackBerry services will be improved with this new Operating system plus some new surprises are expected from RIM's stable.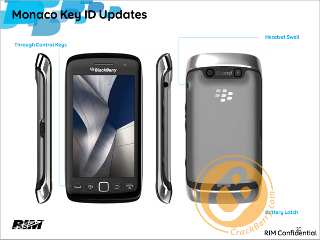 While the whole world awaits the launch of the new device, BlackBerry India is still lagging behind as far as device related announcements and actual launches are concerned. For example, the BlackBerry Bold was to be launched in the month of July which has now been delayed; the BlackBerry spokesperson in India, when asked about the date of launch, did not confirm any date.
However, many websites like Shop Your World have opened up pre-booking for the BlackBerry Bold (4) 9900 device. For getting the BlackBerry Bold 9900, customers in India will have to pay Rs 38,500 but for that they will have to do a pre-booking first by paying 10 per cent of the total amount as token money. The delivery date for the devices is expected to be 23rd August and afterwards.
Even after this launch, RIM is expected to launch a couple of more devices as internationally also RIM had clearly said in a statement that by the year end RIM is expected to announce the launch of 7 new BlackBerry devices.
Images by Crackberry