Mumbai-based GlobalSpace Technologies has launched a tablet which, as per the company, can work like a tablet, a laptop and even as a desktop, and thus is hailed by the company as India's first 3-in-1 tablet. The tablet, named as SOLT, is priced at Rs 19,450 and is available from Snapdeal and Amazon.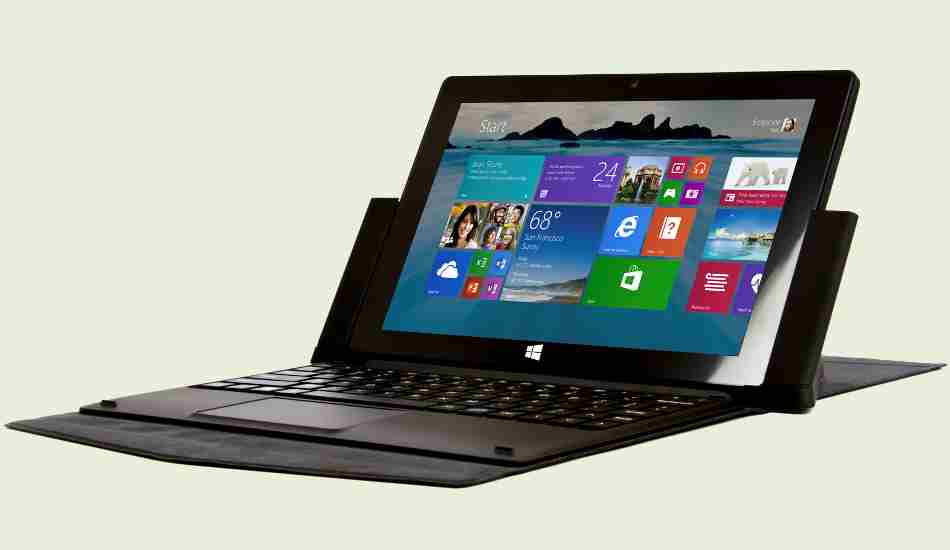 "SOLT works like a tablet, a laptop and a desktop when plugged into the dock. Supported by Intel and Microsoft, 'SOLT' comes with 4 USB ports, an RJ 45 jack, speakers and an optional 500GB SATA HDD, giving it an edge over other products," the company said in a press release.
The tablet has a 10.1-inch IPS Panel display that has 1280×800 pixels resolution and 10 point touch input. It is armed with an Intel BayTrail powered by 1.8 GHz quad-core processor (Z3735G), 2GB DDR3L RAM, 64 GB of internal memory and expandable storage slot of up to 128 GB. The device is supported with a 7900 mAh battery and claims to offer 8-10 hours back up in case of normal use and 60-72 hours in standby mode.
SOLT includes a full-featured keyboard with magnetic dock, and a magnetic cover to keep the tablet safe. The keyboard has a large touchpad with dedicated left and right click buttons. This device supports USB flash drive, hard drive, mouse, HDMI for connecting projectors and a 3.5mm audio jack for connecting sound systems.
The SOLT sports 5MP primary camera with an ability to scan barcodes and QR code. It comes pre-installed with Windows 8.1 operating system and is upgradable to Windows 10 version. This 615 grams heavy tablet also comes with a SIM slot using which you can access 3G. There is WiFi as well for internet access.
"SOLT was conceived by our team, which ensured whether it is the inbuilt anti-theft mechanism to provide absolute security of your data or the next generation service capability provided via an app, SOLT has it all. It is a plug and play 3-in-1 Tablet in any format – tablet, laptop or as a desktop," said Krishna Singh, founder director, GlobalSpace Technologies.
"SOLT has 'MySOLT app' which is the only thing one requires to manage this device. This app can be downloaded from Windows or Android store on the user's smart phone. MySOLT app comes with a chat option so one can connect with us for device settings or remote diagnostics. The App provides a large referral section which helps in answering everyday device questions and we also send a daily productivity tip, so that the user spends more time doing work and less time worrying about their device," added Singh.
SOLT also comes with a one year free device Insurance provided by Oriental Insurance.