Motorola's upcoming handset – Shamu – has been caught everyone's attention by being labelled as the next Google Nexus smartphone. Motorola Shamu was reportedly spotted with partial details yesterday but now full details of the purported Nexus 6 contender has surfaced. We take these specifications are mere speculations because the benchmarks may belong to the prototype units which do not always materialise to be commercial handsets. Hence, we take the Motorola Shamu specification details with a grain of salt and still label it under rumors.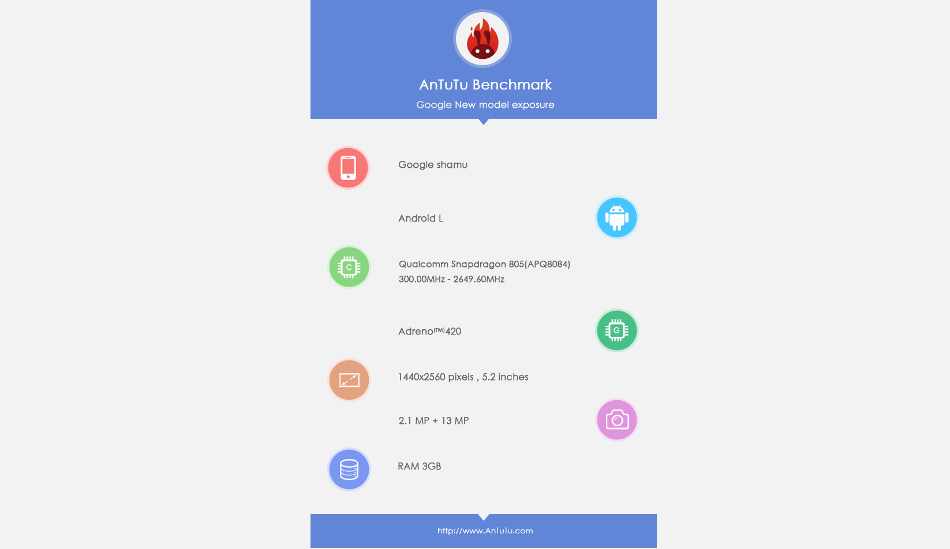 Motorola Shamu benchmark listing at the GFXBench carries a surprising title – Google Nexus 6? by the user who shared the benchmark results. Since the tester is in doubt, it makes difficult for anyone to believe the specifications instantly. Popular AnTuTu Benchmark also carried the device details of the Motorola handset listing it as Google Shamu. For trivia, Shamu is name of a Killer Whale.
The benchmark stated that the Shamu features a 5.2-inch display with 2560×1440 pixel resolution – that means Quad HD. The Shamu is powered by an upcoming quad-core 2.6 GHz Qualcomm Snapdragon 805 APQ8084 mobile chipset coupled with Adreno 420 GPU for graphics. This mobile chipset is yet to be announced formally integrated inside a smartphone. The mobile chipset is paired with 3 GB RAM.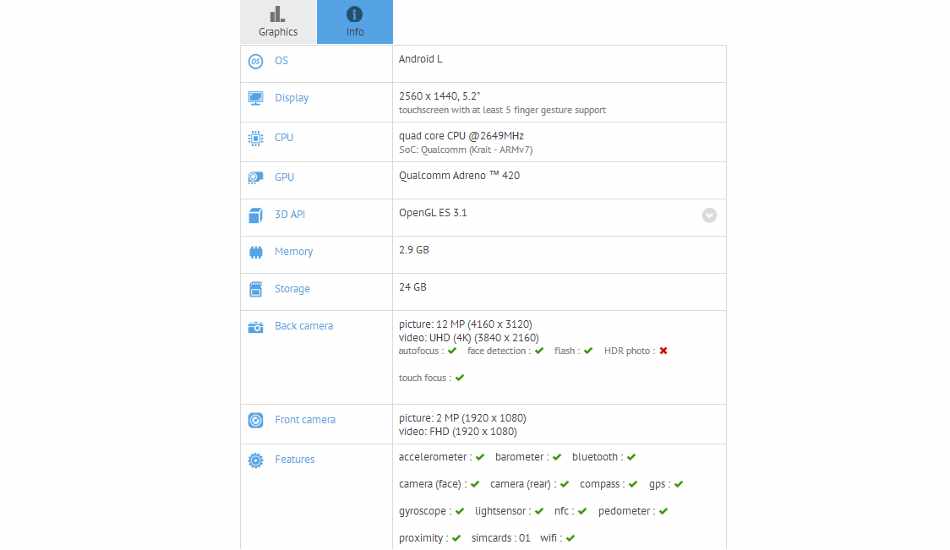 So far the specifications are quite believable but the built-in storage listed as mere 24 GB will certainly raise many brows. Motorola Mobility was briefly with Google and now part of Lenovo, may continue with the Google Android philosophy of no memory card slot. In that case 24 GB built-in storage looks fine but odd.
At the rear, the Shamu has a 13 megapixel camera that can record Ultra HD videos and also features auto-focus, LED flash and face detection function. While the usual touch focus exists, the lack of HDR photo, as mentioned in the GFXbenchmark. That is quite unusual since the Google Camera app brings the HDR capability at the software level.
Interesting bit is that both benchmarks point that the Shamu was running Android L, quite possible, and obviously will debut with next Android version. Raising several doubts, the information about the Motorola/Google Shamu is too good to be believed as of now.