Comicshead, a Nextwave Multimedia venture, has launched Rambow Ramu, a comic series for mobile phones. The application can be downloaded free of cost on Nokia's Ovi Store, Apple's iTunes Store and Android Store. Nextwave Multimedia is a digital media technology, communications, e-learning and entertainment company that provides solutions and develops products for desktop, mobile and internet.
Rambow Ramu is a series on misadventures of a village lad who wants to become the next a Bollywood superstar. The first volume of the series was launched recently.
In a conversation with Telecom Yatra, PR Rajendran, chief executive officer, Nextwave Multimedia, said, "We plan to launch new series of Rambow Ramu after every few weeks. We are planning to launch this series on Windows Mobile, Sony Ericsson's Play Now, Samsung and Nokia E Series phones. We will also launch this on Blackberry but the issue is that Blackberry doesn't allow free uploading of content. It usually charges $100 per content and since we plan to launch new series after every few weeks it would be expensive for us." He added, "We are also looking to offer comics on 3G."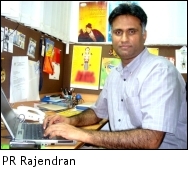 Rajendran also said that the company is keen on partnerships with telecom operators and is talking to Aircel and Airtel. Speaking on the response from subscribers, he said, "The response has been good. We have thousands of downloads everyday."
Nextwave currently offers mobile comics such as The Story of Gandhi, Thomas Alva Edison and Panchatantra Tales on various mobile application stores.
In addition to mobile comics, the company also has a library of about 50 mobile games, which are available on Ovi Store, iTunes Store and Android Store.