Microsoft has announced to hold a special Windows Phone developer conference on June 20 in San Francisco, US. So far the agenda of this conference is still not known but from the looks of the invite it mostly will be focused on next major Windows Phone operating system update. This event is to bring together several developers on-board to add more value to the Windows Phone platform.
While the details of the Windows Phone centric developer conference remain unknown, the timing has been nearly perfect. The Microsoft Windows Phone conference is exactly a week before Google holds its Google I/O 2012 conference.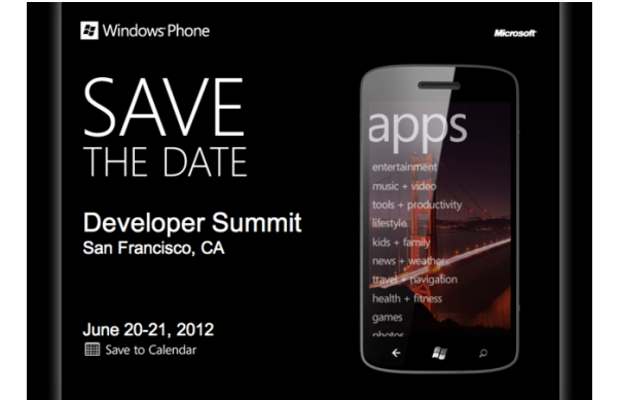 The Google I/O 2012 conference is heavily anticipated as the tickets costing $900 for the conference were sold out in 20 minutes. Heavy excitement has been built-up to watch out the space for next generation Android 5.0 Jelly Bean mobile operating system.
On the other hand, Microsoft just announced a developer conference scheduled a week before that. The company might just give a sneak peek to the Windows Phone 8 development and rope in more developers to create apps for it. The invite itself is self-explanatory that the conference will be App centric. Though Microsoft may argue about number of quality apps, the platform is still missing out on quality apps.
Microsoft usually holds a MIX conference but has been shelved for this year and instead this developer conference will take place. We expect to see loads of fireworks and announcements during this Windows Phone centric conference.