Micromax has launched its cheapest Android phone till date with A44 Superfone Punk which is priced at Rs 4,500. The dual SIM phone is based on Android 2.3 and comes with 3.2 inch touch screen.
While there are Android phones available at even lesser price but they are all very old phones – like Lava S12, Spice Mi 280 and Micromax A60 – whose stocks are still available.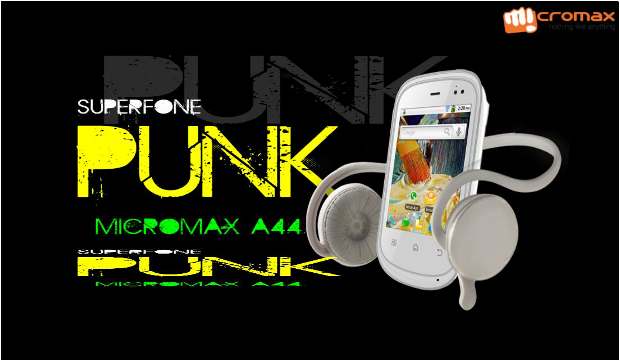 Amongst the new launches, this is the cheapest phone and on top of that it comes with an attractive looking behind the neck ear phone which makes it even more attractive.
The phone is available in white and black colour and comes with an 800 MHz processor which is decent for such a low priced phone. It also offers 32 GB expandable memory, a 2.0 megapixel rear camera and 1200 mAh Li-Ion battery.
However, it only supports GPRS and EDGE network but without 3G support. Though details have not been provided, the phone looks to have proximity sensor, which its costlier cousin, the A45, lacks. There is no front camera nor GPS support either.
But overall the phone is very well priced for its specification and is a great value for money if it delivers the performance as its specifications suggests.