A week after introducing the Helio M70 5G baseband chipset, MediaTek has now announced the launch of the Helio P90 system-on-chip featuring a new AI architecture with flagship-like performance on mid-range smartphones. The Helio P90 is expected to be available globally in consumer devices starting in Q1 2019.
The Helio P90 incorporates the APU 2.0 processing unit which MediaTek says will deliver a new level of AI experiences that are 4X more powerful than the Helio P70 and Helio P60 chips. The SoC will also help users execute intensive AI tasks effortlessly with faster and more accurate results in addition to offering a longer battery life.
The successor to the Helio P70 comes with two ARM A75 processors clocked at 2.2GHz and six A55 cores operating at 2.0GHz. The Helio P90 is paired with a PowerVR GM 9446 GPU and MediaTek's newest CorePilot technology to ensure efficient processing and sustainable performance with low power operation.
The Helio P90 supports faster, complex and more dynamic AI experiences such as human pose detection which can track and analyze body movements. Additionally, it renders support for Google Lens, deep-learning facial detection, real-time beautification, object and scene identification, artificial reality (AR) and mixed reality (MR) acceleration. Developers can use the Helio P90 in common frameworks like TensorFlow, TF Lite, Caffe and Caffe2.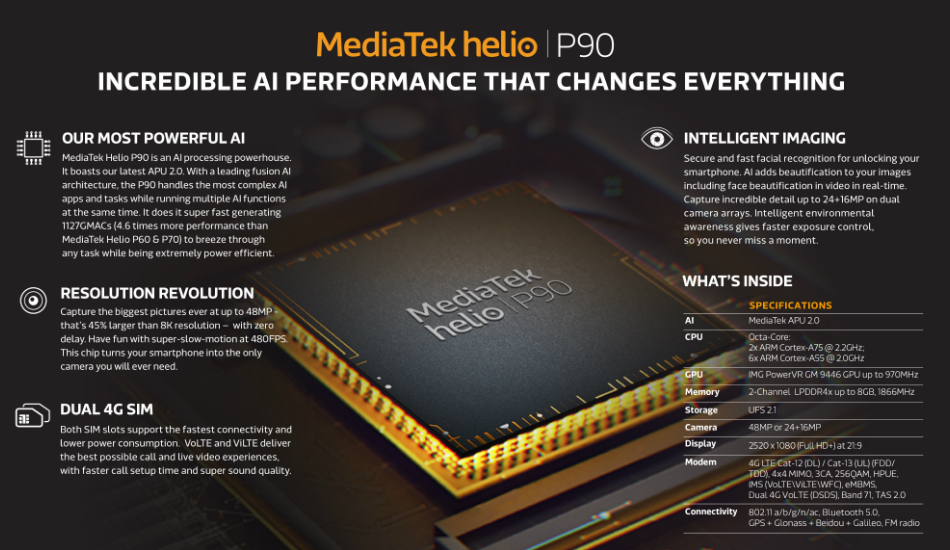 The system-on-chip will relay imaging support to up to 48 megapixels through a single camera unit or a dual 24MP+16MP camera for advanced smartphone photography. Users can capture at 48MP with up to 30 frames per second (FPS) with zero shutter delay, or enjoy super slow-motion at 480FPS in HD to capture every moment. The chipset is also upgraded with support for triple image signal processors capable of 14-bit RAW and 10-bit YUV processing. The new ISP AI engine, specially designed to provide AI camera experiences, can accurately detect faces and scenes in real-time under low light and motion conditions, making a great shot easier than ever for any user.
For connectivity, the Helio P90 supports dual SIM dual VoLTE 4G LTE WorldMode with a fast Cat-12 (DL) / Cat-13 (UL) 4G LTE modem, 2×2 802.11ac and Bluetooth 5.0.
The Helio P90 is expected to be available globally in consumer devices starting in Q1 2019.