A couple of months back who would have thought that Indian handset player Karbonn Mobile would challenge the dominance of well-established MNC handset players in the minds of Indian consumers. But now according to the monthly Handset Hotlist survey of The Mobile Indian, for the first time since the Survey was published back in June last year, an Indian brand (Karbonn A21) has occupied the first position.
According to the data, collected by a study of online preferences of over one million people who visited the website (www.themobileindian.com) in October this year, the most searched for smartphone in India is Karbonn A2 which is based on Android ICS.
This is remarkable achievement for Karbonn whose phones failed to figure for a full 12 months since the Handset Hotlist was introduced in May 2011. It first appeared in the list in June 2012- straight at number 2- with Karbonn A9.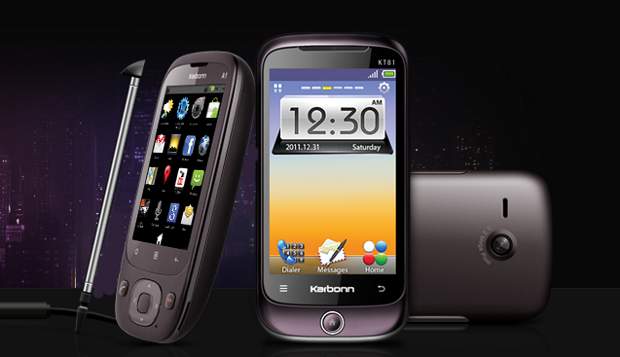 Apart from Karbonn, Sony Mobiles has also embarked on a rapid growth path as five of its latest smartphones have featured in the list of top 25. Since July, Sony has been grabbing a minimum of four slots in the Handset Hotlist survey.
Commenting on the survey, a spokesperson of The Mobile Indian, said, "Right timing, aggressing pricing and a steady flow of new products since September when it started selling its smartphones and tablets under the Karbonn Smart brand seems to be paying off for Karbonn."
The spokesperson further added, "Another trend that is being witnessed in India is the rise in demand for smartphones with at least s 4 inch screen size. If the prioce in within their grasp, that's what consumers would like."
In this month's survey, 14 of the 25 handsets featured in the Handset Hotlist have a screen size that is 4 inch or bigger and seven of those smartphones are from Indian players.
Nokia's Asha 311 was at second position this month followed by Samsung Galaxy Y Duos Lite.
Also, 13 new handsets make it to this month's Hotlist, three of which are from Karbonn, two each from Samsung and Sony Mobiles and one each from, HTC, iBall, Nokia, Micromax, and Spice Mobiles. The major losers in this month's list were Samsung Galaxy SIII which lost 15 positions and LG Optimus L3 fell by 14 ranks. Other handsets that declined are Samsung Galaxy Ace Duos 13 places, Nokia Asha 305 12 positions and Sony Xperia Neo L 11 positions.
In the Handset Hotlist for November 2012, six of the top 25 handsets are from Samsung, five from Sony Mobiles, three each from Nokia, Karbonn and Micromax, two from iBall and one each from HTC, Apple and Spice Mobiles.
The Handset Hotlist survey (Novemeber 2012) is based on a study of online preferences of over one million people who visited the website in October 2012 and searched for and viewed information about mobiles on the site's Handset section, which lists more than 2,000 models.
Top 25 Handset Hotlist for November 2012

| Rank Oct | Rank Sept | Change | Model | Price (inRs.) | 3G | OS | Screen Size | Camera |
| --- | --- | --- | --- | --- | --- | --- | --- | --- |
| 1 | na | New | Karbonn A21 | 10,000 | yes | Android 4.0 | 4.5 | 5 |
| 2 | 1 | -1 | Nokia Asha 311 | 6,224 | yes | Symbian | 3 | 3 |
| 3 | 8 | 5 | Samsung Galaxy Y Duos Lite | 6,990 | yes | Android 2.3 | 2.8 | 2 |
| 4 | 5 | 1 | Samsung Galaxy S Duos | 16,900 | yes | Android 4.0 | 4 | 5 |
| 5 | 6 | 1 | Sony Xperia Miro | 11,471 | yes | Android 4.0 | 3.5 | 5 |
| 6 | 4 | -2 | Sony Xperia Tipo Dual | 9,500 | yes | Android 4.0 | 3.2 | 3 |
| 7 | na | New | Sony Xperia J | 16,500 | yes | Android 4.0 | 4 | 5 |
| 8 | na | New | Nokia Lumia 510 | 10,000 | yes | Windows 7.5 | 4 | 5 |
| 9 | na | New | Micromax Superfone A110 Canvas 2 | 12,500 | yes | Android 4.0 | 5 | 8 |
| 10 | 3 | -7 | Sony Xperia Tipo | 9,000 | yes | Android 4.0 | 3.2 | 3 |
| 11 | na | New | Apple iPhone 5 (16 GB) | 45,000 | yes | iOS 6 | 4 | 8 |
| 12 | na | New | Samsung Champ Neo Duos C3262 | 3,000 | No | Java | 2.4 | VGA |
| 13 | 2 | -11 | Micromax A87 Ninja 4 | 5,600 | yes | Android 2.3 | 4 | 2 |
| 14 | na | New | Karbonn A9+ | 9,000 | yes | Android 4.0 | 4 | 5 |
| 15 | na | New | Karbonn A7+ | 7,000 | yes | Android 2.3 | 3.5 | 5 |
| 16 | na | New | Samsung Galaxy Note II N7100 | 34,500 | yes | Android 4.0 | 5.5 | 8 |
| 17 | 20 | 3 | Micromax A25 | 4,000 | No | Android 2.3 | 2.8 | 1.3 |
| 18 | 13 | -5 | Nokia Asha 305 | 4,295 | No | Symbian | 3 | 2 |
| 19 | 12 | -7 | Samsung Galaxy Y Duos | 7,700 | yes | Android 2.3 | 3.2 | 3 |
| 20 | 9 | -11 | iBall Andi 5c | 12,999 | yes | Android 4.0 | 5 | 5 |
| 21 | na | New | Sony Xperia U | 12,500 | yes | Android 2.3 | 3.5 | 5 |
| 22 | na | New | Spice Mobiles Stellar Horizon Mi500 | 12,500 | yes | Android 4.0 | 5 | 5 |
| 23 | 25 | 2 | Samsung Galaxy SIII | 34,900 | yes | Android 4.0 | 4.8 | 8 |
| 24 | na | New | HTC Desire X | 19,800 | yes | Android 4.0 | 4 | 5 |
| 25 | na | New | iBall Andi 4.3j | 10,000 | yes | Android 2.3 | 4.3 | 5 |