Two similar phones-one from Lava and the other from Karbonn – have recently been revealed for the Indian market. We reviewed the two to find out which is better.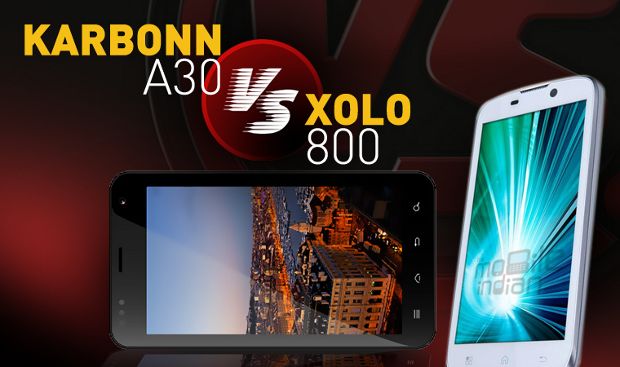 Karbonn recently announced its A30 Android smartphone, which is yet to arrive in the market. The Mobile Indian managed to get its hands on the handset, and you can read its first-hand review here. Karbonn A30 comes with Android ICS operating system, a 1.3 megapixel front camera, dual SIM, a 1 GHz dual core processor, 5.9 inch capacitive touchscreen, an 8 megapixel HD primary camera, WiFi, and expandable storage capacity of up to 32 GB.
Meanwhile, another Indian handset brand, which used to make Lava branded handsets, has now brought out Xolo handsets, namely Xolo A700, and Xolo A800. Of these, we have zeroed in on the Xolo A800 as it priced the same as the Karbonn handset. Xolo A800 also comes with a 1 GHz dual core processor, dual SIM capability, expandable storage capacity of up to 32 GB, dual cameras, WiFi etc. So here is a comparison of the two phones.
Display
The biggest difference between the two devices is in their displays. Karbonn A30 comes with a huge 5.9 inch touchscreen that makes it on par with tablets. It is perhaps the biggest phablet (phone+tablet) as people call these big phones. It is 90 mm wide, which makes it even wider than the Samsung Galaxy Note 2. Karbonn A30 measures 165 x 90 x 10 mm, and that makes it way bigger than the Xolo A800, which measures 133 x 67 x 10.5 mm. Due to its big profile the A30 also feels a bit heavy in the hands. "It looks like a small book but is easy to hold in one hand and operate with the other," Nilabh Jha, our senior correspondent, who reviewed the Karbonn A30, said. Though only some of the technical features of the display are public as of now, during our first hand encounter we found it quite bright. It has a resolution of 800 x 480 pixel. On the other hand, the Xolo A800 comes with a 4.5 inch touchscreen, which is perhaps the ideal size for almost everybody, whether they have small palms or big. It is an IPS LCD display, hence should provide decent brightness and a wider viewing angle. The screen comes with decent 960 x 540 pixel resolution as well.
Camera
Both devices come with dual cameras. However, Karbonn A30 has a slightly bigger camera-an 8 megapixel rear camera and a 1.3 megapixel front unit. On the other hand, Xolo A800 has a 0.3 megapixel camera in the front though it has an 8 megapixel rear camera as well. Both smartphones have LED flash and auto focus. "The camera gets grainy in low light, but only when you zoom into a picture. Other than that the quality of pictures clicked using the A30 was above average, when compared with phones like Micromax Canvas II A110 and other budget phones with 8 megapixel shooters," added our reviewer Nilabh.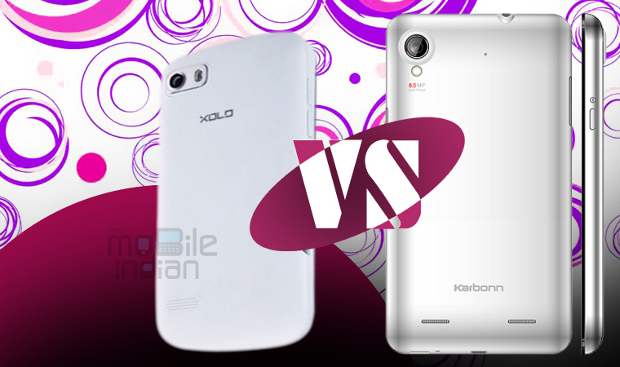 Other specifications
Both Karbonn A30 and the Xolo A800 come with dual core processors clocked at 1 GHz. Also, they have Android ICS operating system as well as 512 MB RAM. We have not reviewed the Xolo A800, but the Karbonn A30 showed no lag when we played a few graphic intensive games on it. Nonetheless, we will pass a final verdict on the Karbonn A30 only after a thorough review. The Karbonn handset has a bigger 2500 mAh battery as against the 1600 mAh unit of Xolo, but this is obvious as the former is a big device, hence requires a powerful battery. Thus, we think that both will have similar standby and talk times.
Other than that, the two phones have identical specifications.
Conclusion
Karbonn A30 is a really 'big' smartphone; to be true it is sort of a tablet with smartphone functionality. So if you are waiting to buy a phone-tablet (phablet), then this should be your device and you should not go for the Xolo A800. But if you do not want a really heavy device, but still want a large screen, then Xolo A800 should do the job. Performance wise, both seem equal. For more information on the Karbonn A30, you can check our hands on, until we do a detailed review soon.