Today, many smartphone manufacturers are selling their handsets with promises like free cloud storage. But is cloud storage a good enough criterion for one to choose a handset in a country where 3G connections are patchy to non-existent?
Here is an analysis of cloud storage services offered by an array of providers like Google, Dropbox etc.
What is cloud storage?
It is a remote storage where you can upload and store your stuff and download it later. In simple terms, cloud storage addresses the need for storing data like music, pictures and documents in a remote location when your mobile or tablet memory is full or if you don't want to store data in the physical memory of your device.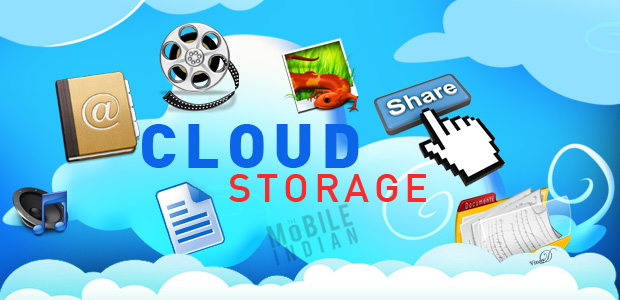 Google is one of the biggest proponents of cloud-based storage for end-consumers with all its major services like Gmail, Picasa, Google Drive (something like MS Office) etc. Its Nexus 7 tablet comes with limited storage and is aimed at encouraging the adoption of cloud storage.
All the major handset vendors like Samsung, HTC, Nokia and Sony are offering free cloud storage to users even in India. For example, Samsung and HTC offer Dropbox storage free, while Sony is offering Box.net storage. And in doing so, they also encourage their users to stay connected so that more services like music store, application stores etc. can also be promoted among them.
Advantages of cloud storage
The biggest advantage of cloud storage is that it is available on all devices by merely logging into your account. For instance, you can choose to save your contacts in your Google account and they will be accessible to any Android phone that you log into, or on your PC when you log into that Google account. No copy pasting from one device to other is needed.
It is also safer since in case your mobile or tablet is stolen, you can simply remotely log out of your account; thus no one can access cloud storage from the stolen device. Moreover, the server where your data gets stored is much more secure with multilevel cyber as well as physical security managed by professionals.
Does it make sense in India?
Well, India still lacks a robust 3G infrastructure with high speed network only available in major cities. Most of the country still gets only utterly slow GPRS networks or at best Edge, offering 56 to 126 Kbps speeds. Even where 3G network is available, it is patchy and unreliable.
Moreover, 3G networks are costly. For instance, you will need to shell out Rs 250 for 1 GB of data for a month, which means that if you upload 1 GB worth of pictures and videos, it will cost you Rs 250 and then again you will have to shell out the same amount to download it back on the device.
Plus, if you keep auto sync on (which uploads pictures or other data automatically when it detects something new,) you will consume your allotted data in a very short span of time and you will end up paying through your nose as operators today charge as much as Rs 10 per MB of 3G data.
What makes this all the more uneconomical is the fact that you can buy as much as a 4 GB micro SD card for the same price and there will be no cost for upload and download.
This cost will not be there if you have an unlimited plan, but then 3G unlimited plans are more or less unavailable; while wired broadband connections cannot be accessed while travelling.
Cloud storage does make sense if you use it wisely. You can create a backup of your data (photos, videos, contacts etc) at home or where you have free WiFi available. You can also store the contents on a micro SD card, which you can access wherever you want to. Switching off auto sync is also a good idea to cut unnecessary costs.